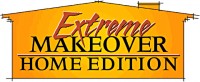 "Extreme Makeover: Home Edition" lends a helping hand to a single mother who lost the love of her life in a sudden and tragic accident but found inspiration in the organization that helped her through it all
On October 17, 2009, "Extreme Makeover: Home Edition" traveled to Woodlawn, TN, in Montgomery County, to give Trina Scott and her three daughters the good news that their problem-ridden home will be rebuilt.
Trina, 44, met her husband David while he was serving with the United States Army Special Forces in Fort Bragg, NC – and it was love at first sight. After his discharge, David became a Clarksville police officer.
In 2002, David and his partner were on-duty when their police car was violently struck by a truck. The car spun out of control, hit a guardrail, caught fire, and killed both David and his partner almost instantly. Overwhelmed with grief, Trina turned to a group called Concerns of Police Survivors, Inc. (C.O.P.S.), which helps the surviving family members of officers killed in the line of duty. Inspired by the help she received from C.O.P.S., Trina devoted all of her free time to the organization and became its President in 2003. The time that Trina dedicates to C.O.P.S. is essentially a full-time job, on top of the regular job she works to support her three daughters: Leyla, 17, Deidie, 13, and Alethea, 11.
Trina has spent more than $20,000 to try to fix the mounting repairs to her small home, but the structural problems caused by termites and water damage remain.
The Scott Family will go on vacation to DisneyWorld while "Extreme Makeover: Home Edition" team leader Ty Pennington, designers Michael Moloney, Paige Hemmis, and John Littlefield, local builders Duncan & Duncan Construction and Singletary Construction, and community volunteers rebuild their home.
The location address is: The Scott Family 2030 Edna Lane, Woodlawn, TN 37191.
The series is produced by Endemol USA, a division of Endemol Holding. It is executive-produced by Anthony Dominici. David Goldberg is Chairman, Endemol North America.
"Extreme Makeover: Home Edition" is broadcast with Spanish subtitles via secondary closed captioning. A TV parental guideline will be posted closer to airdate.