On October 14th, the City of Clarksville received confirmation from the Tennessee Department of Agriculture that the City has been awarded $4,000 in the form of a matching grant to be used for planting trees. The other $4,000 will be provided by the City. The money comes from the Tennessee Agricultural Enhancement Program, and is administered by the Tennessee Department of Agriculture, Division of Forestry.
The grant will be used to plant forty trees within the large, circular ramp loop at the intersection of Ft. Campbell Boulevard and 101st Airborne Division Parkway. Three tree species have been selected for the project. Twenty shumard oak (Quercus shumardii), ten Kentucky coffee trees (Gymnocladus dioicus), and ten bur oak (Quercus macrocarpa) will be planted.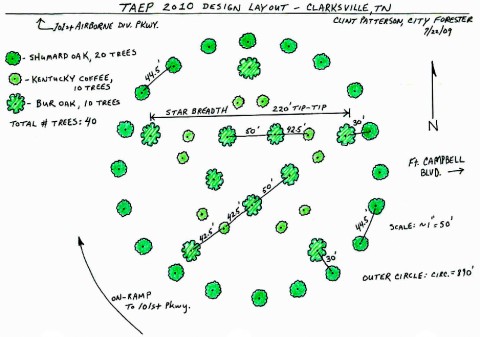 These extremely hardy, native trees are large-growing, long-lived, and well suited for urban tree planting. The objective of the planting is to provide rain interception, improve air quality, and help counter the "heat island" effect of this heavily paved area. A secondary objective is to promote the use of native species and also the use of groves in our City as an alternative to only planting single trees and rows of trees.
The project design consists of a large star-shaped grove of trees encircled by a ring of trees. The five point star is an important ideogram which is commonly used in the Western world, with strong military and patriotic associations. The pattern will be readily recognized from the sky, and is intended to honor Clarksville's 101st Airborne Division while at the same time functioning as a working grove that will eventually fill in the entire site with a closed canopy.
The City Forester, Clint Patterson, designed the project and applied for the grant with the support of Clarksville's Tree Board and with help from City Grants Coordinator Ron McClurg.