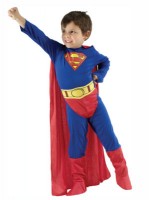 Bill, my dear husband, was like most little boys when he was growing up—eagerly interested in trying out new and exciting adventures.
That's why Superman—and all super heroes—are so fascinating to children. The urge to fly is somehow innate. We see birds do it. We see butterflies do it. We see tiny insects do it. Why can't we?
In Bill's case, he decided that if Superman could do it, so could he. Confiscating a towel to use as a cape, he sneaked over to a neighbor's farm and climbed up into the barn. Climbing the ladder into the loft was a cinch as was opening the doors to the outside.
That's when things became a bit complicated.
Bill didn't think of Superman as his only hero; he also wanted to be Lash Larue, Roy Rogers and Hopalong Cassidy all rolled into one. He had seen these guys do fantastic horse riding tricks like jumping from the ground onto the back of the horse and into the saddle. He figured that the next step would be to jump from the hayloft, fly like Superman, and land on the back of the horse to ride off into the sunset.
It just so happened that no horse appeared to be available at that moment.
Enter an unsuspecting goat.
"Ah, ha!" thought little Bill. "A steed for my adventures!"
He took a running jump, flew out of the barn and landed on the back of the goat.
Extremely bad news. The goat did not survive the experience.
Panic! What was Bill to do now?
He knew he couldn't pay for the goat. He knew his parents would exact severe consequences for his behavior. He knew he had to do something quick!
First, he cried because Bill has always been an animal lover. The thought that he had killed the goat grieved him sorely.
When he regained control of his emotions, he realized that there was a way out.
The highway beckoned.
Only six years old and small for his age, Bill, huffing and puffing, dragged the poor goat out to the highway to place it as if it had been run over.
He found a tree branch that had fallen to the ground and used it to erase his tracks and those of the goat.
Casting a burden on his conscience forever, he told his mother that a truck had run over the farmer's goat—and vowed silently never to play Superman again.
Bill was not unlike most children. A great imagination is an important part of childhood. Understanding that your actions involve consequences comes with experience.
Children do not always think ahead. They live in the moment. If it seems like a good idea at the time, they are likely to try it.
That's why they have parents and teachers and other adults in their lives. Children need to be taught that every action has a consequence. Good decisions result in happiness and well-being; bad decisions result in some pain.
Sadly, many of the adults in our society have not learned these lessons when they were children. It's obvious every day that some people don't realize the consequences of their behavior.
Just remember: before you decide to take a course of action, you need to think of whether or not your pretending to be Superman is going to kill the goat! The goat you save may be you.
About Sue Freeman Culverhouse
Author of Tennessee Literary Luminaries: From Cormac McCarthy to Robert Penn Warren (The History Press, 2013) Sue Freeman Culverhouse has been a freelance writer for the past 36 years. Beginning in 1976, she published magazines articles in Americana, Historic Preservation, American Horticulturist, Flower and Garden, The Albemarle Magazine, and many others. Sue is the winner of two Virginia Press Awards in writing.

She moved to Springfield, Tennessee in 2003 with her sculptor husband, Bill a retired attorney. Sue has one daughter,  Susan Leigh Miller who teaches poetry and creative writing at Rutgers University.

Sue teaches music and writing at Watauga Elementary School in Ridgetop, Tennessee to approximately 500 students in kindergarten through fifth grade. She also publishes a literary magazine each year; all work in the magazine is written and illustrated by the students.

Sue writes "Uncommon Sense," a column in the Robertson County Times, which also appears on Clarksville Online. She is the author of "Seven keys to a sucessful life", which is  available on amazon.com and pubishamerica.com; this is a self-help book for all ages.

Web Site: http://culverhouseart.com/
Email:
Sections
Commentary
Topics
Barn, Consequences, Goat, Hopalong Cassidy, Lash Larue, Roy Rogers, Superman