On an unassuming weekday morning two years ago, Kell Black, professor of art at Austin Peay State University, turned on his computer and found an unusual e-mail waiting in his inbox.
An editor in the United Kingdom had contacted him to talk about paper. Specifically, she wanted to know how to fold paper into chess pieces. The editor, Black learned, intended to publish a book, titled "Paper Chess," which would allow readers to punch out perforated shapes and fold and glue them into chess pieces.
The APSU professor's name came up as a possible designer for the project because Black is one of the pre-eminent paper engineers in the country. Creating realistic sculptures out of paper is something he's been doing since he was in kindergarten.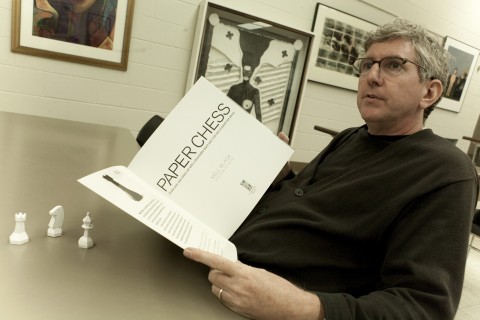 "When I was 5 years old, my dad had worked at the New York World's Fair, and he had gone to the Dutch Pavilion and he bought this kit – make your own medieval village," Black said. "One night after supper, we cleared the dining room table and cut everything out and glued everything together. It was like magic. I thought, 'wow, I want to do that.'"
The 5-year-old was hooked. Everything he saw, even the Volkswagen bus in the driveway, he deconstructed with his mind, figuring out how to unfold it to make a blueprint of its shape on a piece of construction paper.
Black went on to excel in school in subjects such as drafting and geometry, and in his career as an artist, he's produced hyper-realistic paper sculptures of everything from a rotary telephone to an elaborate German coo coo clock.
A paper chess set was just up his alley. Black agreed to design the pieces, and earlier this month, the book went on sale. It features instructions and enough "punch-out" pieces to make two complete paper chess sets. But for someone accustomed to making complex and ornate works of art, engineering something the average person can do proved to be a little more difficult.
"Any designer, any artist, any musician will tell you it's always easy to add stuff," he said. "What's really hard is to take away, to make it as simple as possible. That's the challenge and that's what made it so fun."
The fun, however, was tempered by the fact that Black had short deadlines looming before him. The publisher wanted the sets only a few weeks after he signed the contract. So Black went to work, designing, building, rethinking and building again numerous paper chess pieces.
"We had dozens of these around the house," he said, holding up a paper knight piece. "You have to take a deep breath and dive in. I just worked 10, 12, 14 hours a day to get it done."
Black is in contact with other paper engineers across the globe, and he sent them his designs to get feedback on how difficult the pieces were to assemble. Finally, a few weeks early, he sent off the finished designs.
The book is now out and for sale at Amazon.com for $19.95. It opens with a history of the game of chess, but the majority of the book consists of instructions and the unassembled pieces. The book's back cover provides a chess board that all the pieces were designed to fit.
Black has a copy of "Paper Chess" on his office desk, but his thoughts are already on future titles. He's currently working on a "Paper New York" book. The boy who built that medieval village is now tackling an entire city, designing 20 of the metropolis' iconic buildings and a hot dog cart.
"My dad picked up that first kit at the New York World's Fair," he said. "There is some poetry to it."