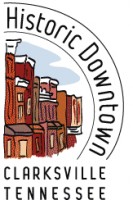 You're invited to join the merchants of Historic Downtown Clarksville for The monthly Art Walk, on November 5th from 5 – 8 p.m. Kendall Welsh from ARTifacts sent us this information about November's artistic extravaganza.
Opening at the Downtown Artist Co-op is Cliff Whitakers new show "Visions of My World". The show opens Thursday, November 5 with a reception from 5-8 p.m. It will be on exhibit in the gallery until 28 November. Cliff Whittaker is a photographic artist who specializes in mid-19th century-style impressionist images. He has studied and been influenced by the French Impressionist works of artists such as Manet, Pissaro, Monet, Renoir, Degas, Van Gogh and others of that period. His work is often mistaken initially as oil on canvas painting.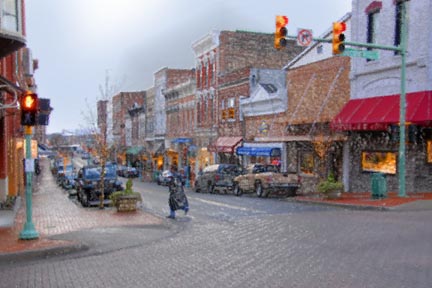 His work involves every day activities along Franklin Street and inside businesses such as Hodgepodge, Blondie's, Front Page Deli and Blackhorse Pub. Cliff says that his art is more like that of a contemporary historian in that his candid images show people and places as they are in that instant. And, maybe some time in the future people will look back at those images and remember their own impression of "the good ol' days."
ARTifacts will feature the booths of Ashley Richardson, John Glass & Ginger Murvey-Beirus.
Ashley is a photographer, who is expanding her knowledge through self taught exploration. The favorite subject in her work is of landscapes and textures that she finds as she wanders all over on her photographic expeditions. Ashley also enjoys taking candid photos, posed photos themed and event photos. Recently taking holiday photos for children at the City of Clarksville's Fright on Franklin event, the photos gave a unique look and style in contrast with photos taken at most local photo studios. Come see Ashley's unique photographic style, you will not be disappointed.
Also featured at ARTifacts is John Glass. After the adventure and challenge of building our house, I made some furniture for it, bookcases and tables. Then I made some nest boxes for our neighors, the bluebirds. Then a friend asked me to make some display cases for him. Along the way, I rescued some beautiful old paneling from a church remodeling project I worked on and ended up incorporating that into some boxes I made. I found that I enjoyed making boxes, using various kinds of wood and experimenting with different finishes. A couple of years ago I added the challenge of designing secret compartments in the boxes. I enjoy the process of making these objects and I hope people take pleasure in the results." Ginger Murvey-Beirius is owner of the antique booth FiLo (first in, last out). Featuring a collection of unique items that she has collected over the years ranging from unique collections of unique items to silver serving pieces and wonderful vintage furniture.
Hodgepodge will be featuring Steven M. Walker. Steven is a fourth generation Texan who attended Southwest Texas State University where he studied fine arts. His use of digital photography to capture and share his view of the world around us is both distinct and refreshing. Joins us for a glimpse of Steven's work—which is also available for purchase—refreshments and a sneak peak at our holiday décor.
Ingredients will be featuring two artists November 5 for the First Thursday Art Walk:
Heather Bowker, pastry specialist will be their "food artist". Heather is a graduate from Johnson & Wales University in 2007, with an Associate in Baking and Pastry arts and a Bachelors in Food Service Management. She currently works at Gaylord Opryland Hotel and Resort, as a pastry chef. She has also worked in many fine dining restaurants and hotels in the Charleston SC and Charlotte, NC areas. Heather will be conducting beginning cake decorating classes at "ingredients" after the new year.
Gabriele Wardeiner, artist, will also be featured. Gabriele is mostly a self taught artist, dabbling in various art mediums. Her favorite subjects are bare "winter" trees. She truly sees living beings in trees, each with a unique personality, each beautiful, mystical and sacred. Feathers also intrigue Gabriele and occasionally she draws dragons, flowers or an abstract. For the "ingredients" show she did mostly "kitchen art" and fun food greeting cards. If you miss First Thursday Artwalk, Gabriele's permanent booth at Artifacts, above Hodgepodge, is #6B.
Rogate's Boutique on Franklin Street will feature Lyn Jellison. With Lyn Jellison no surface is safe – she works with collage and decoupage on canvas and wood. While playing blocks with her toddler, she was struck by the idea of retooling her love of collage by making art blocks for adults to play with in home decor or for whimsy. Unable to find pre-made materials she began to make the wood forms herself and decoupages them with fine art papers, old maps, vintage fabric patterns, and pages from books. The making of the blocks has branched out into making desk and vanity accessories, holiday ornaments, and small art dioramas.
The Roxy Regional Theatre's Peg Harvill Gallery features the work of Charles Bennett, whose current pieces are inspired by the tales of Edgar Allan Poe. While at the theatre, purchase your tickets for the Tennessee Williams classic, A STREETCAR NAMED DESIRE, opening this Friday, November 6, at 8pm.
Featured at Visions Metaphysical are Amanda Harrison, who works with acrylics–modern/abstract; Afton Chandler, acrylics–modern; & Cathy (I don't remember her last name), oils. I also have two new pieces of jewelry made. We will also do the "Street Art" again (we'll move it inside if it rains or is too windy). They will all be up for auction in Dec.