Construction started today of a new $25.5 million student residence hall complex at Austin Peay State University. Actually, it started hours before the groundbreaking ceremony was held.
"This is a different kind of groundbreaking," said Joe Mills, director of Housing and Residence Life at APSU. "Rather than having well-sifted ceremonial dirt, we're actually using turned dirt."
«Read the rest of this article»
Fort Campbell – Kelly Narowski, the Army wife who turned a tragic automobile accident that left her paralyzed into a personal crusade for driver safety, will return to Fort Campbell Thursday through Saturday.
Narowski will speak to the Soldiers of the 106th Transportation Battalion and 129th Combat Sustainment Support Battalion, 101st Sustainment Brigade, 101st Airborne Division, Thursday and Friday. She will also conduct a special high-risk behavior presentation to the teen-agers of the Soldiers assigned to the "Lifeliners" Brigade on Saturday.
«Read the rest of this article»
Outlaw Field will receive $60,000 as part of TDOT program
Nashville – Senator Tim Barnes announced Monday that Outlaw Field is receiving a $60,000 state grant.
"As we continue to attract good jobs to the Clarksville area, an extensive and reliable transportation system is something we need to offer," Senator Barnes said. "Businesses require up-to-date aviation facilities for themselves and those they do business with. «Read the rest of this article»
Develop a new skill, explore a new idea, learn a new language or seek a new career with one of the fall classes from Austin Peay State University's Center for Extended and Distance Education. Register early and receive a 10 percent discount on selected courses. Preregistration is required for each course. «Read the rest of this article»
Having a room cleaning system for your home is a great way to make the chore of keeping a clean house easier.
When the children get up to about 8-10 years old or so, I use these written out plans for cleaning rooms that are their responsibility to clean each week. Room Cleaning Systems are handy! Not only do they help a child remember what to do first and next, they can be a great check list for moms or dads who are cleaning.
If you're anticipating company for the holidays, Room Cleaning Systems can be a great help in getting it all done.
These are two of my Room Cleaning Systems. If you use a RCS, just tailor it to your own room and your own style. «Read the rest of this article»
The Customs House Museum and Austin Peay State University's Center of Excellence for the Creative Arts presents "Milking the Rhino" with Producer/Director David E. Simpson as part of the Southern Arts Federation's Southern Circuit Tour of Independent Filmmakers at the museum on Saturday, November 7th at 2 pm. Following a screening of his documentary, "Milking the Rhino," Simpson will engage the audience in a discussion about the film and his work as a filmmaker. Admission to the screening is free.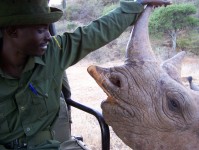 "Milking the Rhino" tells a nuanced tale of human-wildlife coexistence in post-colonial Africa. The Maasai tribe of Kenya and Namibia's Himba—two of Earth's oldest cattle cultures—are in the midst of upheaval. Emerging from a century of "white man conservation," which turned their lands into game reserves and fueled resentment towards wildlife, Himba and Maasai communities are now vying for a piece of the wildlife-tourism pie. Community-based conservation, which tries to balance the needs of wildlife and people, has been touted by environmentalists as "win-win." The reality, however, is more complex. "A rhino means nothing to me! I can't kill it for meat like a cow." And when drought decimates the grass shared by livestock and wildlife, the community's commitment to conservation is sorely tested.
http://www.youtube.com/watch?v=fbzWM6Kqbhk «Read the rest of this article»