Tennessee in Motion is a monthly column by Tennessee Department of Transportation Commissioner Gerald Nicely
As Tennesseans enjoy the cooler temperatures and changing leaves of fall, TDOT Maintenance forces across the state are focused on the winter months ahead. Although we don't typically see severe winters in the southeast, even small amounts of snow or ice can cripple our transportation system and create dangerous conditions for motorists. And, the wet weather pattern we've seen for much of 2009 makes one wonder if this could be a winter to remember.
When battling a winter weather event, time and resource limitations can be as formidable an opponent as the snow and ice that may be falling. This year, TDOT is testing a number of new weapons that all have the potential to save valuable time, manpower, and money. «Read the rest of this article»
NASHVILLE — Tax return e-filing for this year ended Oct. 15 and Tennesseans e-filed a record 1.96 million federal income tax returns in 2009. With a projected 2.82 million paper and electronic returns to be filed by Tennesseans by the end of the year, 69.6 percent of tax filers in the state chose electronic filing over paper. "Most Tennesseans have made the sensible switch to e-filing," said IRS spokesman Dan Boone. "It's fast, easy, secure and for most filers it's available at no cost." «Read the rest of this article»
Blanche DuBois brings her Southern charm to historic downtown Clarksville.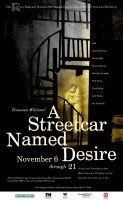 CLARKSVILLE, TN – Feel the air sizzle with tension as sparks fly. A STREETCAR NAMED DESIRE opens at the Roxy Regional Theatre Friday, November 6th.
Blanche DuBois arrives by streetcar at the home of her sister Stella. Claiming to have taken time off from her job as a teacher, Blanche settles in, oblivious to the strain her presence will cause Stella and her husband, Stanley. Stanley Kowalski, an alpha-male in every way, is a force to be reckoned with.  As Blanche's stories of her genteel Southern lifestyle begin to dissolve beneath Stanley's brutal scrutiny, she attempts to elevate herself through greater self-deception. «Read the rest of this article»
On November 3, 2009, around 7:38 am, a two car collision resulted in two people being sent to the hospital.  A 2003 Jeep Cherokee, driven by Michelle Wylie, 34, of Clarksville  was traveling west on the 101st when a 2002 Mercedes, driven by Ward 5 City Councilwoman Candy Johnson, who was making a left from Ringgold Rd onto the 101st Parkway to head east (toward Wilma Rudolph Blvd).   The vehicles collided at the intersection of 101st Parkway and Ringgold Rd.  Candy Johnson was transported by Lifeflight to Vanderbilt and Michelle Wylie was transported by ambulance to BACH Medical Center.  There were no other passengers in the vehicles.
CPD Public Information Officer Jim Knoll stated that the Police Department would have to speak to Councilwoman Johnson before determining exactly who was at fault in this accident.
The investigation is ongoing and charges are pending.  The lead investigator is Officer David Colvin, 931-648-0656, ext. 7064.
Do you decorate your home for Autumn?  I just love the Autumn colors, and I like to bring those colors into my home to add warmth and beauty.  I begin in September full of anticipation and hope that the trees in Clarksville will provide a gorgeous show of color.  Then, I bring that color into my home with inexpensive, easy decorating ideas.
These little gourd candle holders are easy and look great sitting on my dining room table or across the mantle. They're easy to make; my 11 year old had a great time making them and didn't want to stop.  They are inexpensive too.  One bag of those little gourds costs about $5 at local markets.  You could split the cost with a friend and both have several gourds to make into candle holders for your Thanksgiving table. «Read the rest of this article»