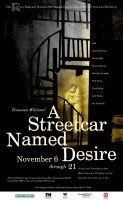 This Friday, November 6, the Roxy Regional Theatre welcomes the opening of Tennessee Williams' Pulitzer Prize-winning classic set in 1940's New Orleans, A STREETCAR NAMED DESIRE, with our regular pay-what-you-can night.  Tickets go on sale at 7:30pm for whatever you wish to pay; curtain is at 8pm.
This production stars Justin Barnum as Stanley Kowalski and Alicia Kelly as Blanche DuBois, with Chase Kamata (Stella), Brendan Cataldo (Mitch), Linda Speir (Eunice), Phil Perry (Steve), Jay Doolittle (Doctor) and Judi Sinks (Nurse). Webb Booth, Hugh Poland and Jacob Ritchart play newsboys. «Read the rest of this article»


Gulf Shores, Ala. – Austin Peay State University women's golf team was unable to end the fall portion of its schedule on an upswing, firing a second-round 322 to finish 11th in the 12-team UAB Fall Beach Blast, Tuesday, at the par-70, 5,880-yard Peninsula Golf & Racquet Club.
Senior Angelina Manzitto fired a second-round 79 to lead the Lady Govs second-day effort. She finished 51st with a two-day 162. Junior Chelsea Harris led the Lady Govs with a two-round 156, following her opening-round 75 with a second-round 81, and finished 31st. UAB's Carolyn Cochran won the individual medalist honor with a two-over par 142 (72-70).
«Read the rest of this article»


Nashville – A run in with the Atlantic Sun Conference's regular-season champion saw Austin Peay State University's volleyball team on the wrong end of a three-set loss (25-13, 25-21, 25-21) to Lipscomb, Tuesday night, at Allen Arena.
After watching Lipscomb (23-3) lead wire-to-wire in the opening set, Austin Peay fought close contests in both the second in third sets.
«Read the rest of this article»

Nashville – The Tennessee Department of Education today released the annual comprehensive report card on pre-K – 12 education, including state, district and school-level information on achievement, demographics, and discipline. This year's report card demonstrates fundamental changes to the calculations of Value Added and Achievement scores. The method of calculating scores and the scale used to determine letter grades have been revised to allow for a transition to the new standards and assessments required by the Tennessee Diploma Project.
"Because we have been on an aggressive path of improvement with the Tennessee Diploma Project, it was necessary to utilize this transition year to change our calculation methods and more accurately demonstrate student progress in an effort to pursue higher standards," Education Commissioner Timothy Webb said. «Read the rest of this article»
The H1N1 task force at Austin Peay State University continues to track cases of flu suspected to be H1N1. The task force has six suspected flu-like illnesses reported from Oct. 24-30.
The task force began tracking cases with the beginning of the fall semester Aug. 29. During the previous two weeks the task force saw 21 cases Oct. 10-16 and 11 cases Oct. 21-23. There was no reporting for Oct. 17-20 due to fall break. The University task force is collecting data from faculty and staff who report cases to a campus e-mail address set up through the APSU Health Services Web site for task force efforts. Student cases are reported to the task force by faculty who have been contacted by their students who are absent and indicate they are experiencing flu-like symptoms or have been diagnosed by a private physician. Student cases are also reported when diagnosed by the APSU Health Services staff. «Read the rest of this article»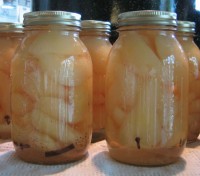 There's a certain something in the air when its cold. Something crisp and sharp. Whatever it is, it sets my mind to thinking about the bakery and farm we left behind some 6 years ago.  I miss the farm and the life we had there. I even miss going out to put wood on the fire that warmed our house. I  miss the orchard. I miss my friend Martha.
It seemed so much colder there than here in the winter, even though we were only 20 miles further to the north than we are now. And I do miss the friends we made while we were there. Surprisingly, the only friends we made were Amish people. They seemed to think we fit right in the community. I don't really know why. We don't dress like them, talk like them or think like them. That leaves me to think that we connected on a spiritual level, something deeper than clothing or hair; a faith connection that centered around Jesus Christ that not one of us really understood or could account for, but knew that it was there. «Read the rest of this article»