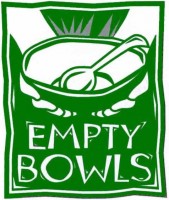 There is a wonderful "grassroots" movement growing around the country with the mission of feeding the hungry, disadvantaged and homeless and it's called "EMPTY BOWLS."   The effort is based on the international Empty Bowls program, where volunteers create bowls that are used to serve a meal of soup and bread during a fundraiser. The bowls serve as a reminder that there are always empty bowls in the world.
When you think of hunger and poverty, a lot of people think about 3rd world countries and they may not be aware that right here in Clarksville, Montgomery County we have a big need.  There are many people who are hungry, and although we have several local programs like Urban Ministries Grace Assistance Food Pantry, Loaves and Fishes (Soup Kitchen), FUEL and others, the need is still great. Agencies have reported close to a 40% increase in the number of persons they are serving, up from last year at this time. According to the USDA, over 36 million Americans are food insecure…and just do not have enough to eat.
«Read the rest of this article»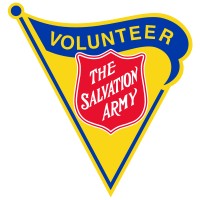 The Salvation Army will kickoff the 2009 bell ringing season on Friday, November 13 at 10 a.m. at the Fort Campbell Wal-Mart featuring a performance by the Clarksville Choir. Volunteers who would like to ring can call 931-551-7200, 9 a.m. until 4 p.m. Or e-mail or .
Ringing will take place November 13 and 14 then starting November 21, ringing at all sites, Monday-Saturday, 10 a.m. until 8 p.m. The last day of ringing will be December 24. Locations are: St. Bethlehem, Sango and Fort Campbell Wal-Marts; Kroger on Lowe's Drive, Madison Street and Dover Crossing; Sam's Club; Walgreens on Madison Street and Hilltop Grocery Store. Friday,
November 27 is Kettle Day. Kettle Day is ringing at all sites with a goal of $25,000. Funds raised support the work and mission of the Clarksville Salvation Army Shelter operations.
Several men enter the mall, moving quickly towards the mall office. A suspicious activity call goes out to the police department. The intruders pull weapons from under their clothing. One a pistol another a shotgun. Gunshots ring out sounding unbelievably loud in the confined space. People panic, some hide while others attempt to flee! 35 people are killed or injured. Several minutes later the police start to arrive. After organizing they enter the mall as a mass with guns drawn. They find a scene of carnage and chaos. The less severely injured, some in shock have started to try to make their way from the mall. Officers order everyone to the floor, they have no way of knowing who is a victim and who may be a perpetrator. Some of the officers are left to manage the survivors while the rest continue their sweep. Bodies are strewn everywhere. Two explosives device are found! The bomb squad is called out. A suspect is located in the mall office. Negotiations begin…
«Read the rest of this article»
Rayven Collins' solo senior art show, "Beauty and OBESE," will open Nov. 16, from 7 to 9 p.m., in Trahern 106 at Austin Peay State University.
Collins' show, which runs from Nov. 16-20, will feature beautifully executed drawings and paintings in a photorealistic manner. She depicts full figured women at obscure angels with interesting compositions, as well as showing "thick" women in the most beautiful and classical pictorials.
"My show is about thick women and how society views them," Collins said. "Beauty is something I've been questioning since I can remember. I portray thick women in the best of the light and the worst of light to make a statement on how different our ideals of beauty are." «Read the rest of this article»


Opening the game with a 30-5 run, Austin Peay State University women's basketball team rolled to a 96-40 exhibition victory against Cumberland, Monday night, at the Dunn Center. Austin Peay held Cumberland without a field goal until the 4:36 mark of the first half – a 30-5 run that determined the outcome. The Lady Govs led 47-12 at halftime and won the second half by a 49-28 margin.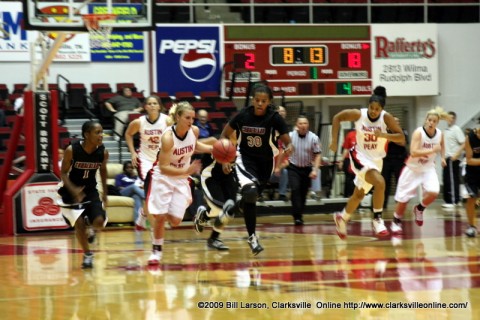 «Read the rest of this article»