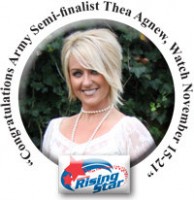 It turned out to be a beautiful morning yesterday when we all left the hotel for Ft. Belvoir's Wallace Theatre at 8:45. This is the home of the Army's Soldier Show. We weren't suppose to leave until 8:50, so while we were almost a couple of minutes away, someone counted heads and realized we were missing someone.  So we turned around and got Sarah.  Poor thing. She was standing on the steps looking at the schedule when we drove up.  I would have freaked out! So, we were now all together and on our way.
When we arrived we were given a tour of the stage and was able to walk on it.  It is at an angle, so it will be something to get use to when it is time to do our choreography. The reason for the design is to let the audience get a wider view.   The set looks awesome and it is a beautiful theatre.
After our tour, we all sat in our chairs and started with our morning group vocal warm up.  It was then that we were told not to sing in the morning before we did our warm up.  To let our voices rest.  Also, not to talk in the evening after our vocals have been used. (So thankful for texting) It was a pleasant surprise to me how well we sounded as a group!  We sound awesome. It is going to be a great show!
Our practice lasted until noon and then we went to have lunch at Vinny's restaurant. It was a great time of fellowship with each other.  I can see all of us getting close and wanting nothing but the best for the other.  Personally, Andrea Griffith and I have been hanging together. She has been in the military for 14 months and a proud mother of a gifted daughter who will be graduating high school at the age of 16!  She also has a son, I believe.  Still learning about each other.  I have memorized everyone's names to faces.  That is something that always seem to be a challenge for me.  Not so in this competition.
After lunch, it was time for the interviews for the 6 contestants that were chosen to go first.  I was one of them. My time didn't come till the end.  They didn't want to keep moving the camera up and down, so they did two short people first and then when the next 2 were tall, they switched me to be last so they wouldn't have to readjust.  I totally understand.  I was pretty nervous with the interview.  But all in all, when they edit it, it will look and sound good.
Once that was done, it was time for the accapella songs of the 6.  I went ahead and sang one of my favorite songs by Martina McBride.
Thea Agnew singing "Broken Wing" by Martina McBride during the preliminaries of Operation Rising Star 2009
During this time, the vocal coach wanted to hear what we sounded like without music and to get our range.  He would give us tips that we needed to use to become better.  With my audition he said that I was very smart with my vocals.  Everyone that has heard me knows I have this thing I do at the end of my notes.  I don't know what you would call it. He said he loved that and when he would be wanting to hear it, it was like a teaser and I would give it to him when he would start thinking about it.  He also said that hearing my voice I have no pitch problems, that the songs I picked to sing are the right choice. That I was smart in my song selection.  The only thing he heard was when I hit the high note. He didn't want me to look like I was straining. So I need to watch myself and practice dropping my jaw.  Not bad.  I was a nervous wreck wondering what he was going to say.  If it was going to be a lot of bad things wrong.
While we were waiting for everyone to get finished with their interview and song, it was a time to get off by yourself and listen to music or gather around each other and play the guitar and hear talent!  It was awesome.  Like I said earlier, everyone is talented in their own way and to be honest, we are all winners here.  What did the vocal coach say? We could very well be the Daughtrey's of the world. (Not in those exact words) Remember him from American Idol? He didn't win but he is living his dream in a big way now!
It was a very productive day and I can't wait for this morning to start!  The other 6 will be doing their interviews and song, while we read, practice or whatever is in store for us.  This is one of the BEST things that has ever happened to me and like my Momma said in a text to me this morning quoting Richard Bach:
"No matter how qualified or deserving we are, we will never reach a better life until we can imagine it for ourselves and allow ourselves to have it."
Remember, voting is done at www.oprisingstar.com and you click on VOTE starting November 15th at 8pm eastern for two hours.  You can vote more than once but remember, you have to go through the whole process to vote each time. Thank you for believing in me and my dream! I do!!