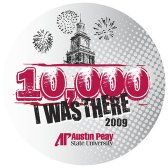 It had always been forecast that one day, Austin Peay State University will reach an enrollment of 10,000 students.
That day has come. And a celebration is in the works.
Now that Fall II 2009 figures from the Austin Peay Center @ Fort Campbell are complete, APSU's enrollment is more than 10,000 students for the Fall 2009 semester.
To reveal the final enrollment head count and celebrate the milestone, the University has planned a public announcement and celebration with the theme "10,000. I was there" at 10 a.m., Monday, Nov. 16 in the Morgan University Center plaza. In case of inclement weather, the event will move inside to the MUC lobby.
President Tim Hall, Provost Dr. Tristan Denley and Student Government Association President Chris Drew will speak briefly. In addition, local and state dignitaries have been invited to attend.
The public is invited to attend. Parking will be available in the First Baptist Church parking lot at the corner of University Avenue and Franklin Street. An APSU shuttle bus will transport attendees from the parking lot beginning at 9 a.m. to the plaza and continue doing so until 10 a.m. At the conclusion of the announcement, the shuttle bus will be available to return attendees from 11-11:30 a.m.
For the week of Nov. 16, several activities and events have been planned to celebrate reaching 10,000 students, including student giveaways and faculty and staff receptions.