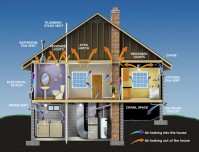 As the cold weather approaches there are some things you can do to prepare your home for winter.  Clarksville temperatures have been known to get into the single digits in the winter so don't get caught in the cold without getting your home all tucked in.
In preparing your home for winter there are several steps to be followed in order to ensure a warm, clean environment for your family during the coldest months. Not everyone reading this will have to contend with wood stoves and woodpiles, drafty windows and doors and an overabundance of "stuff" to deal with. But it is all included here in case you need it.
Begin by ridding the house of unnecessary items. You and your family will be indoors a great deal of the time from now til spring, so try and make it as comfortable and clutter free as possible. Now is the time to get those summer clothes out of sight and also time to store most of your summer linens, like thin quilts and blankets. Store your summer articles in well marked plastic boxes. Its time to get out warm comforters, down quilts, and fuzzy blankets.
While you are storing summer items, take a moment to locate your holiday decorations. Place them in an area of the attic or basement where they can be easily accessed.
Clean, dust and polish each room as you would normally do. The house should be as free of dust and grime as possible, you will not have good opportunity to clean like this again until warm weather. Clean windows and get them ready for insulation. Clean your rugs thoroughly, you may have to rent a steam cleaner. Clean your wood floors. If you will clean your woodwork and walls also, you will be rewarded with a fresh room in which to live the winter months. Don't forget to dust the nic-nacs and items on your walls.
To draft-proof your windows and doors start by caulking the outside of each with an approved caulking compound. Fill all the holes and cracks. Now consider covering the inside of your windows and any unused doors with the clear plastic sheeting that can be heat shrunk with a blow dryer.
*Remember that when you insulate and tighten up your house in this way, there are some very important considerations.  If you use a kerosene heater, you may not have enough air circulation for your family's safety. Use an approved Carbon Monoxide detector and crack one of your windows during use of the heater. Propane stoves, wood stoves and fireplaces also give off Carbon Monoxide while burning, so take the appropriate precautions to protect your health.
Here is a basic list of things to do to winterize your home…
Heating System
Give your heating system a test run.
Replace air filters.
Remove obstacles that may be preventing free air flow from vents.
Check for Carbon Monoxide leaks. Carbon Monoxide can easily be detected with either an inexpensive test badge or battery operated alarm.
Clean the condensing unit of debris. Use a garden hose set on the highest pressure you have to clean the fan blades and condensing coils of clear of debris and dirt.
Cover your air conditioning unit, whether free standing or window unit, with an appropriate cover if it is separate from the heating unit.
Chimney, Fire Place and Flue
Check to see that the chimney is free of animal nests and animals. Birds and squirrels especially like to make their homes in unused chimneys.
Check the flue damper and make sure it opens and closes correctly. Make sure it will lock into place.
Test the chimney draft. Roll up some newspapers. With the fireplace damper open, light the newspaper in the fireplace. Watch the smoke. If it doesn't rise up the chimney, you may have an obstruction that needs to be cleared out before you use the fireplace.
Inspect the firebrick in the fireplace. If they are cracked or broken, you should have them repaired immediately. A fire can spread through cracks in the bricks into stud walls surrounding the fireplace.
if you haven't used your fireplace in several years, or have never used it, you should call in a professional inspector to check it out first.
Plumbing
Insulate exposed piping and faucets.
If you will be away for several months in the winter, you should consider shutting down the water service.
Insulation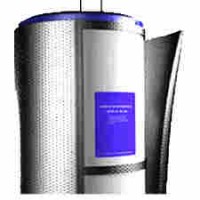 Insulate your water heater tank with an insulating blanket you can buy at most hardware stores.
Insulate exterior outlets and switch plates with a foam sealing gasket.
If you don't use your fireplace often and it leaks air, you can cut a piece of fiberglass insulation and stuff it into the fireplace behind your fireplace doors to block the cold air coming down the chimney.  don't forget to remove this insulation if you make a fire!
Windows
Check for air leaks around windows. On a windy day, light a fire works "Punk"  or an incense stick  and hold the smoke around your windows.  If the smoke blows anywhere but up, you have an air leak.
You can use plastic shrink covers or rope caulk around leaky windows inside your home.
Use caulk on the outside of your windows to keep out cold air.
Doors
Check the weather stripping and replace if needed.
Outdoors
Purge sprinkler system.
Empty garden hoses and store.
Can you think of other things that need to be done to winterize your home?