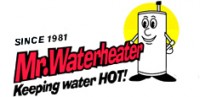 Pittsburgh, PA – The Mr. Waterheater® jingle will soon be heard in Clarksville Tennessee as Neal and Ron Morton, owners of Morton Mechanical opens the seventh Mr. Waterheater® franchise location. Ron Morton, who had been a heating and cooling factory representative for 20 years, purchased an existing Clarksville HVAC business in 1988 and renamed the company Morton Mechanical. Ron's son Neal, joined the business in 1991, and currently serves as the general manager. The company employs 30 people and many of its current employees have more than 20 years service with the company. Two thirds of its employees have more than 10 years service.
The Morton's added a plumbing division in 2002 to serve the commercial and residential new construction market. Since 2008, they have looked to expand into plumbing services, and sought a business model to transition them into the market. "Starting a plumbing business takes a lot of time and effort. By opening a Mr. Waterheater® franchise we'll be able to ramp up the business quickly because of the marketing, the television commercials, the radio advertising, and the Mr. Waterheater® mascot, we can get known in Clarksville," states Neal Morton. The franchise discovery process included a trip to Pittsburgh to meet the Sembower family and the Mr. Waterheater team. "When we came to visit Mr. Waterheater we were impressed with the family atmosphere that they have created. We have experience with other franchise or licensing opportunities and we feel that the values that we have at Morton Mechanical are right in line with the Mr. Waterheater team."
The Morton's expect great synergy between Morton Mechanical and Mr. Waterheater®. "Morton Mechanical is known and respected in Clarksville for great service. I plan to use the Mr. Waterheater® advertising to get the word out that if you need to replace your water heater quickly and affordably…like the jingle says…call Mr. Waterheater®." The Morton's believe the low price leader philosophy of Mr. Waterheater® will make for a successful business to dominate his market with low prices and great customer service.
Neal Morton recently completed his week of franchise training in Pittsburgh, PA and is ready to start taking calls to replace water heaters in Clarksville. Mr. Waterheater® started operation in 1981 by two former Sears employees. The company was purchased in 1998 by the Sembower family that operates Sembower-Mikesell Plumbing looking to expand their business. The company has doubled in business and installs close to 5,000 water heaters a year and sells almost 7,000 and has the largest share of the residential water heater replacement business in the Pittsburgh market. Mr. Waterheater® is looking for franchise owners throughout the United States that like the simplicity of this specialty plumbing franchise.
Sections
Business
Topics
Franchise, HVAC, Morton Mechanical, Mr. Waterheater, Neal Morton, Plumbing, Ron Morton