"State Troopers step up Click it or Ticket Campaign"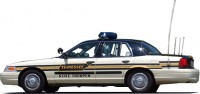 NASHVILLE – Highway travel during the 2009 Thanksgiving Holiday week is expected to be heavy in the State of Tennessee as families pile into their cars and head off for holiday destinations. But there's one sure recipe that can turn a joyful holiday into a tragedy– failure to buckle up. State Troopers will be patrolling Tennessee Interstates and highways looking for drivers and passengers who are not wearing their seat belt. The message to travelers: "Click it or Ticket". The 2009 Thanksgiving Holiday period begins at 6:00 p.m., Wednesday, November 25th and runs through midnight Sunday, November 29th.
"Seat belts are the single most important safety device in your vehicle and they have saved countless lives and prevented untold numbers of injuries over the years," said Department of Safety Commissioner Dave Mitchell. "TDOS urges everyone driving on our state's roads this holiday to drive carefully, don't drive impaired and, most important, buckle up each and every trip, night and day." «Read the rest of this article»
Austin Peay State University presents Submerged, an exhibition of paintings by senior art student Lindsey Davis Ward, which opens from 7 to 9 p.m. on Nov. 23 at the Trahern Student Gallery.
"This collection of paintings embodies my true love of paint and the freedom it gives me to expose myself in a very intimate and intentional way," says Ward about the playful vivid color and use of medium in her oil on canvas work. She uses a variety of textures from extremely thin layers of paint to buttery thick swatches with every fluid brush stroke intended to keep the viewer involved. «Read the rest of this article»
The holiday season is upon us. It is a time for mirth and merriment, but unfortunately, it is also offers many opportunities for criminal activities. The Clarksville Police Department would like to provide some safety tips for the holiday season, whether you're at home or out and about.
AWARENESS, AWARENESS, AWARENESS! Know what is going on around you.
Dress casually and comfortably. Pay special attention to your wallets and purses. Keep the wallet in your front pant or jacket pocket. Purses should be kept close to your body and not dangling by the straps. Do not leave your purses unattended at any time. Also, try to avoid hanging purses on hooks or door handles in the restrooms.
Avoid carrying large amounts of cash. Use credit cards and checks whenever possible. Make sure only one credit slip is printed with your charge card and, carbons if used, are returned. Also, since many stores use electronic withdrawal for checks, safeguard the returned check since there is valuable data on it.
«Read the rest of this article»