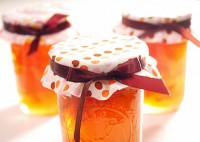 One of the things I made for Christmas gifts last year, and plan to make this year, is marmalade . There is no comparing the homemade product with store bought.  This recipe makes about 9 cups of marmalade.
You will need two or three varieties of oranges and about half that many lemons to make a full flavored, yet subtle, marmalade. For example; I used 4 oranges and 2 lemons in the batch I made this week.  I use water but you can use orange juice for a more full-flavored marmalade.
You will also need canning jars, either half pint or pint.
Other things you will need:
3 cups sugar
sharp knife
large heavy bottomed pan
water
Thinly slice the oranges and lemons. Use a mandolin or a very sharp knife. Place all the sliced fruit in a large pan. For every 1 cup of fruit, add three cups of water to the pan. Cover and let sit at room temperature for 24 hours.
After 24 hours, some recipes call for a boiling and another rest of 24 hours. What this does is to draw out all the bitter oils from the peels. I prefer to leave some of the oils in the peel, I think it gives the marmalade a pleasant 'bite'. But, the extra soaking also softens the peels, so I soak an additional 24 hours.
After 48 hours of soaking, I am ready to make marmalade.
I make the marmalade in small batches. Small batches help to make that delicate syrup and tender peel that you want in marmalade.
Use 3 cups of the citrus/water mixture and 3 cups sugar. Bring to a boil over medium high heat. Turn the heat down enough that the mixture simmers actively for 20 minutes. After 20 minutes you can dip a cold metal spoon into the mixture. Pour the mixture off the spoon and watch it as it rolls off. If it wrinkles up and is thick, it is ready. If its not thick enough, just let it cook another 5 minutes and check it every 5 minutes til its ready.
I like to can the marmalade in glass jars. So when the marmalade is just about ready, I put my jars and lids on to heat in water. I put the hot marmalade into hot jars and top with hot lids and rings. I process the marmalade in boiling water according to regular jelly instructions. This will depend on the size of your jars but in general half pints need to boil for 15 minutes according to the Ball Blue Book.
I found some little 1/2 cup Ball jars and used those this time, I really like these little jars! They are just the right size for putting in gift baskets. I processed the 1/2 cup jars for 15 minutes.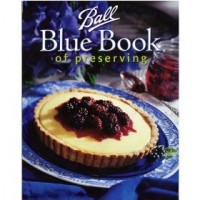 If you have never canned anything, you should get yourself a Ball Blue Book of Canning and Preserving before you start making marmalade.
The Ball Blue Book® Guide to Preserving is the ultimate guide to fresh preserving. Each edition is filled with fresh solutions for today's busy lifestyles to help everyone enjoy good food at the peak of flavor. The Ball Blue Book® Guide to Preserving is packed with over 500 tried and true recipes and guides you to the right tools and ingredients that make it easy to capture freshness.
About Sylvia Britton
Sylvia Britton is a Clarksville native and owner of the Christian HomeKeeper™ Network website and ministry. She and her husband Mark are the parents of 5 children and grandparents to two little girls.  She enjoys reading, mentoring women, writing articles for several magazines, gardening and Tennessee history.

Web Site: http://www.christianhomekeeper.org
Email:
Sections
Arts and Leisure
Topics