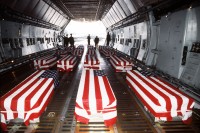 Lately, I have received several versions of an email. The email tells of a soldier that has fallen, and being brought back home. After an emotional story, the writer then asks you to show your support by wearing a red T-shirt this Friday. If you like poorly written prose, the latest email I received, is at the bottom of the article.
I truly do not wish to offend anyone that has sent me the emails. But I find these emails offensive. On some level, the emails represent people's need to feel like they are doing something. But is it appropriate to show your support for fallen troops via the equivalent of 'Hawaiian shirt fridays' at work?
Instead of reading the email, forwarding it to dozen people, and then forgetting to wear red on Friday (its unlikely anyone would even know why I was wearing red)… I thought I would do something productive… put pen to paper. «Read the rest of this article»
Tennessee in Motion is a monthly column by Tennessee Department of Transportation Commissioner Gerald Nicely
The video of a Tennessee mountainside crashing down onto U.S. 64 in Polk County on November 10th was indeed spectacular and made national news. A rockslide that closed I-40 in North Carolina has also garnered its share of headlines and impacted thousands of motorists. With clean-up at both sites expected to take months, these events show the impact rockslides in mountainous areas can have on our transportation system, local economies and the commuters who rely on these routes.
Given Tennessee's terrain and the vagaries of weather and other factors, the threat of such rockslides is ever present. Several years ago, TDOT began implementing a Rockfall Mitigation Program to address these transportation pitfalls. The program first identifies potential rockfall sites, and then assigns a hazard rating to each location. The hazard rating is based on the potential for a rockfall event and the impacts to travelers and surrounding communities. «Read the rest of this article»

The Clarksville Department of Gas and Water website has been restored, and is now fully accessible. The department apologizes for the temporary inconvenience and appreciates your patience and understanding.
FHA-approved lender faulted for poor underwriting and false certifications
WASHINGTON – The Federal Housing Administration (FHA) today withdrew the FHA approval of Ideal Mortgage Bankers, doing business as Lend America and Lending Key ("Ideal"). The action is effective immediately and prevents Ideal from originating and underwriting new FHA-insured mortgages or from participating in the FHA single family insurance program. In addition, the Government National Mortgage Association (Ginnie Mae) defaulted Lend America. Effective immediately, Lend America will no longer be able to issue Ginnie Mae securities.
FHA also imposed civil money penalties against Ideal in the amount of $512,500. The U.S. Department of Housing and Urban Development's Mortgagee Review Board (MRB) took the action based upon two notices of violation issued to the Company last month. The MRB cited Ideal for numerous violations of FHA origination and underwriting requirements, including failing to document borrowers' income and creditworthiness, and for submitting false certifications to the Department.
«Read the rest of this article»


Senior Wesley Channels broke a season-long shooting slump by scoring 21 points to lead Austin Peay State University to a 99-61 decision against Freed-Hardeman, Monday night, in a non-conference basketball game played at Dave Aaron Arena.
The victory improved the Govs to 3-4 overall while Freed-Hardeman, the 18th-ranked NAIA team, fell to 7-3.  It also was APSU head coach Dave Loos' 399th career victory in his 24th head-coaching season.
Channels, a preseason All-Ohio Valley Conference selection who entered the game averaging 10.7 ppg while shooting less than 30 percent from the floor, scored 21 points in just 19 minutes.  He had 16 of his 21 points in the first half as APSU built a 53-29 halftime lead—it was APSU's first halftime advantage this season. Channels connected on six-of-eight field-goal attempts on the night, including four-of-five from three-point range.
«Read the rest of this article»