Mired in a four-game losing streak, Austin Peay State University women's basketball team will seek to get back on a winning track when it hosts Southeast Missouri in a 5:15 p.m., Thursday, Ohio Valley Conference opener.
Austin Peay stands at 1-5 this season following a pair of losses at the Vanderbilt Thanksgiving Tournament last weekend. The Lady Govs showed flashes of their potential in both games but could not put together complete 40-minute performances in either contest. While its rebounding was superior in the tournament – averaging 47 rebounds per game – the Lady Govs defense allowed both opponents to shoot better than 45 percent from the field. «Read the rest of this article»
Austin Peay State University students Tina Gould and Zak Parrish will be opening their senior graphic design gallery exhibit, titled "Iteration," at 7 p.m., on Monday, Dec. 7 at Austin Peay's Trahern Gallery.
Design is all about the iterative process, Parrish said. As a design progresses, ideas are conceived, developed, presented, altered, refined and then presented again. «Read the rest of this article»
There has been considerable talk in recent weeks about potential post office closings in Clarksville and around the nation. I've heard from many in District 67 asking how they can get involved by registering their opposition to any attempt to close a post office in a growing community like Clarksville. After a bit of research I have learned that there are two ways, at least, to express your thoughts on the matter.
If you are so inclined, you can write a letter to the contact below and/or call the consumer affairs division at the number below to register your feelings about the issue. «Read the rest of this article»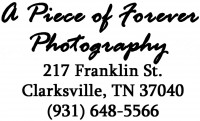 A Piece of Forever, an upscale photo studio located in Historic Downtown Clarksville has a special feel about it. It could be the beautiful photos of their clientèle on display, the lovely Christmas Decorations, or perhaps it is the box of toys sitting near the door. I think it's a combination of all three.
The store is participating as a collection point in the U.S. Marine Corp's Toys for Tots Program. The program collects new, unwrapped toys during October, November and December months each year, and distributes them as Christmas gifts to needy children in the community.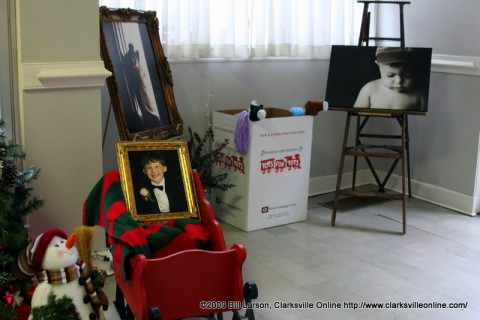 You can drop off your donation for Toys for Tots at A Piece of Forever and know that it will safely find its way to a needy child in our community. «Read the rest of this article»
On Tuesday, December 1, WKAG officials met with Charter Cable technicians as a new antenna was installed on the Charter Head End Tower on Ford Road in Clarksville. Antenna was installed at proper height (approximately 140 ft) and tuned accordingly.
Upon completion, a very strong signal was picked up at the antenna, and when converted to a television signal on the ground the picture was clear and sharp. Charter technicians responded that both the picture and sound quality were "good".
To our eye, the signal looked as good as the signals we see in our lobby that are fed directly from either local cable or directly from our distribution equipment in the control room.
«Read the rest of this article»