Do you have a Guardian Angel? What do angels look like? What do they sound like? Have you ever seen an angel? Can you believe in God and not believe in angels? Can you believe in angels and not believe in God? The questions are endless. The answers are many and varied.
What many people know about angels, they know from the Bible and other religious texts, others from the angels themselves. They are messengers of God and assigned to watch over us and protect us. Their message is pure love. They appear, disappear, and reappear in our lives, sometimes on a daily basis. Many have physically seen and heard angels, while others have only sensed their presence. They are spiritual, heavenly beings that are sent to us in times of need. They guide and direct our lives, but can not intervene because of our free will; but they will come in an emergency or crisis situation. Yet, if we ask for their help, they are immediately present. But we must ask. Angels are not to be worshiped or prayed to, but can be prayed for. In his book Angels, God's Secret Agents (c.1994, World Publishing, pg 33) Billy Graham states "Moreover, we should not confuse angels, whether visible or invisible, with the Holy spirit, the third person of the Trinity and Himself God" and "Angels are mightier than men, but they are not gods and they do not possess the attributes of the Godhead". He goes on to say "We can be sure, however, that there is no contradiction or competition between God the Holy Spirit and God's command of the angelic hosts."
In our ever-changing world, the angels have kept up with us. «Read the rest of this article»
Seasonally adjusted Rate down 0.2 percentage points from October
NASHVILLE – Tennessee Commissioner of Labor & Workforce Development James Neeley announced today Tennessee's unemployment rate for November was 10.3 percent, down 0.2 percentage point from the October rate of 10.5 percent.
"As the year ends, we're seeing evidence the economy is bottoming out and beginning to show some modest employment growth, which is encouraging news," reported Labor Commissioner James Neeley.
The November rate a year ago was 7.2 percent. The national unemployment rate for November 2009 was 10.0 percent, down from the October rate of 10.2 percent «Read the rest of this article»

A $250,000 gift to Austin Peay State University from an anonymous middle Tennessee family will be used to create scholarships for math and science students enrolled at the University.
"It is by God's grace that we are able to provide this gift to help change the lives of many students at Austin Peay," said the donor, whose family has no ties to the University and has requested anonymity.
"This unexpected generosity from an anonymous family will be a great blessing to our students," President Tim Hall said. "We are extremely grateful to the donors." «Read the rest of this article»
Joins more than 1,000 delegates from 42 countries, including Holocaust survivor Hedy Epstein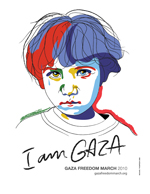 Joshua Brollier, a Northeast High school graduate now living in Chicago, will spend his Christmas vacation in the Gaza Strip, participating in the Gaza Freedom March along with Alice Walker and score of other notables.
Departing from Cairo, Egypt, Brollier and more than 1,000 international activists will caravan into Gaza to witness the devastation from last year's Israeli invasion. On Dec. 31, they will join a projected 50,000 Palestinians in a non-violent march from Northern Gaza to the Erez/Israeli border to call for the border to open. "We are moved by the tremendous response to this march and are heartened that the global community has not forgotten us," said Haidar Eid, a member of the Organizing Committee inside Gaza.
On the Israeli side of the Erez border Palestinians and Israelis will also be rallying to urge the Israeli government to open the border. "As a believer in the shared dignity and common humanity of all people, I cannot sit idly by while my government sends $3.5 billion a year in military aid to support Israeli policies that lead to the needless suffering, death and displacement of innocent children in Gaza" says Brollier. «Read the rest of this article»
On Monday, State Representatives Susan Lynn (R-Lebanon) and Debra Young Maggart (R-Hendersonville) asked Tennessee State Attorney General Robert Cooper to prepare to take the appropriate legal action against the federal government in the event HR 3200, the controversial federal healthcare reform legislation, passes into law. The legislators requested this action in order to grant Tennessee relief from the unfunded mandate contained in the bill that Tennessee complies with the expansion of the federal Medicaid program.
The letter notes that under the bill Tennessee would be forced to expand the state's Medicaid program potentially costing the citizens of the state $1.4 billion dollars in additional state taxpayer funds annually. «Read the rest of this article»