Right now at Retro's Arcade in Clarksville TN, David Scherer is playing to win – a world record that is. David – a 19yr old sophomore at Austin Peay University is trying to break the world record for longest play of the game Grand Theft Auto. The record is currently 40 hrs and 21 min held by Chirantan Patnaik of Mumbai, India . David strives to break this record at 4:22 am Tuesday Jan 5th 2010. However, he does not plan on stopping there, David says, "my goal is 80 hours."

David is no Play Station junkie, on the contrary he is an honor student, volunteer, and currently the assistant head coach of the Swimming Eagles swim team. So why is he choosing to forgo sleep for days and only take 10 minute breaks every 10 hours? "This is not about me; I want everyone to know why I am here. It is all about the kids." David's quests for the world record in an effort to raise awareness and funds for the Swimming Eagles.

The Swimming Eagles are a local swim team in the Kentucky LSC swim league. Scherer, a swimmer himself of 12 years, became involved with the team after seeing the practice while lifeguarding at APSU. "I volunteered for two weeks and was then asked to be the assistance coach" Scherer said. What started off with just a few kids has grown to about 20- 25 swimmers. "We want to get the word out about our team and our need for practice facilities." Anyone from age 6- 18 can participate in the team which travels and competes in different meets all over Kentucky. «Read the rest of this article»



Premiere Gallery – Nashville artist Jason Saunders brings the outdoors in via the exhibition of his beautiful portraits of the Tennessee countryside. His works in oil will be on exhibit from Saturday, January 2nd,  through Saturday February 26th.  A reception is scheduled for Saturday, January 9th, from 6-9 p.m.  (Digital image above "Saunders1")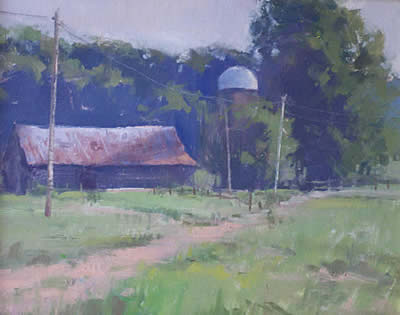 «Read the rest of this article»

Art is a gift to treasure, especially when made by a young person. That's why Austin Peay State University is reminding the community that limited edition prints are available for purchase to benefit the Natalie Jo Welch Scholarship in Art.
The prints are of the paintings created by Welch, an APSU art student who died in 2004 at the age of 22. She had just transferred from APSU to start art school at Savannah College of Art and Design.  Her mother, Jenny Welch, established the scholarship in 2005 in her daughter's memory.
Her work can be viewed online at http://www.apsu.edu/Development/natalie_welch/. Some of her work includes "The Roxy," which shows the popular theater on Franklin Street in downtown Clarksville, "Roaring Twenties," Sullivan's Island Lighthouse" and "Sunflowers."
To make a tax-deductible donation to the scholarship, send a gift to APSU University Advancement, Box 4417, Clarksville, TN 37040 or purchase one of the limited edition prints.
For more information, contact APSU University Advancement by telephone at (931) 221-7127.
Environment and Conservation Kicks Off Education Efforts
NASHVILLE – Governor Phil Bredesen has proclaimed January "Radon Action Month" to help educate Tennesseans about the dangers of radon exposure and encourage actions to identify and to address radon problems in the home.
In conjunction with the Governor's announcement, the Department of Environment and Conservation has joined forces with the American Lung Association, the Environmental Protection Agency, the Tennessee Department of Health, and various local and county health departments with an outreach program to raise awareness about this health risk and the importance of testing.
"Tennesseans can check for the presence of radon in the home with a simple test," said Bredesen.  "I encourage each household to take this important step to protect the health of loved ones from the dangers of exposure to radon."

«Read the rest of this article»
During the tax filing season, the IRS and partnering community organizations provide free tax preparation for filers whose household income is under $49,000 or who file a simple tax return. These sites are staffed by trained volunteers and most offer free e-filing and convenient locations and hours. Call the IRS toll-free at 1-800-906-9887 to find the site closest to you.
If you will be paying someone to do your tax return, choose a tax preparer wisely. You are legally responsible for what's on your tax return even if it is prepared by someone else. So, it's important to find a qualified tax professional.
The most reputable preparers will request to see your records and receipts and will ask you multiple questions to determine your total income and your qualifications for expenses, deductions, and other items.  By doing so, they have your best interest in mind and are trying to help you avoid penalties, interest, or additional taxes that could result from later IRS contacts. «Read the rest of this article»