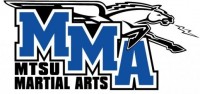 The Mixed Martial Arts Association (MMA) of Middle Tennessee State University, along with Guardian Mixed Martial Arts, will be bringing organized ultimate fighting to the MTSU Murphy Center Arena, Saturday, Feb. 6, 2010. First bout starting at 7:00 p.m.
"The evening will showcase the talents of MMA artists from around the country," said Anthony Gomez, MTSU Mixed Martial Arts Association club president. "We are proud to welcome as our special guest, veteran Ultimate Fighting Championship (UFC) Heavyweight Champion Ken Shamrock that evening to meet and greet the public and sign autographs."
During his MMA career and his participation in the UFC and Pride Fighting Championship. Shamrock emerged as one of the biggest stars in the history of mixed martial arts, headlining over 14 main events and set numerous pay per view records with his drawing power.
Shamrock will be available to sign autographs when the doors open at 5 p.m. Fans will also be treated to a special appearance by the The National Hooter Girls. «Read the rest of this article»