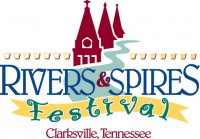 Auditions are being scheduled now for a new youth talent show, "Aspire to Stardom," which will premiere during this year's Rivers & Spires Festival. Auditions are open to youth between the ages of 2 and 19. The top acts will be chosen to perform in the final talent showcase, which will be held April 16 at 6:30pm in downtown Clarksville.
The Auditions will be held at Kickers Country Club (690 Riverside Drive) from 11:00am to 3:00pm on the following dates:
Saturday, January 30
Saturday, February 6
Saturday, February 13
Saturday, February 20
Tryouts will be scheduled in five minute increments. You must call (931) 320-7368 for a set audition time
Requirements and Rules
Requirements and Rules are as follows:
Must be between the ages of 2 and 19, as of April 16th.
Must come 15 minutes prior to audition time to fill out paperwork. Late talent will not be heard and must be rescheduled.
Must come dressed to impress. Wear what you will be wearing to the show! No inappropriate attire will be permitted.
Must have a CD of your music. The dance or song you sing must be the one you perform at the show. NO CHANGES! All music must be clean. Absolutely no cuss words allowed. This is a family show.
All performances must not be longer than 4.30 in length.
Must be able to attend dress rehearsal in its entirety on April 10th from 11 am to 3 pm.
Must attend the Talent Show completely!  No exceptions will be made.
The "Aspire to Stardom" show, sponsored by Gateway Realty & Investment Group, will be televised on three local channels for six weeks. Talent scouts will also be on hand for the show. To schedule an audition, or for more information on the talent show, contact Kelly Maselli with Gateway Realty at (931) 320-7368.
The 8th Annual Rivers & Spires Festival will be held April 15-17 in downtown Clarksville. Applications are still being accepted for booths, sponsors, and vendors (arts & crafts, quilts, marketplace and food). For applications or more information on festival activities, visit www.riversandspires.com.