FORT CAMPBELL – The Department of Defense announced today the deployment of the 4th Brigade Combat Team "Currahee," 101st Airborne Division (Air Assault), as part of the increased deployment of U.S. forces in Afghanistan this summer.
Approximately 3,400 Soldiers will deploy as part of the United States' force increase of 30,000 service members announced previously by President Obama to provide the level of forces necessary to provide sufficient military capability for the NATO-International Security Assistance Force (ISAF) to further improve security and stability operations. «Read the rest of this article»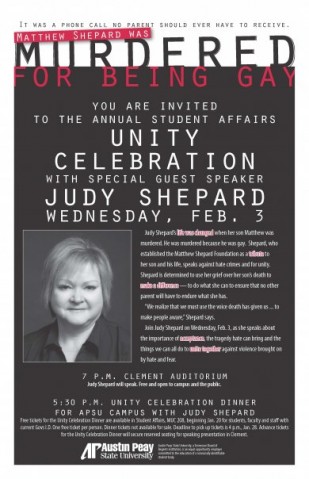 On Oct. 8, 1998, Judy and Dennis Shepard were awakened in the middle of the night by a telephone call no parent should ever have to receive.
What they heard changed their lives forever.
Their eldest son, Matthew, was in a coma after having been brutally attacked—because he was gay. The distraught parents flew from Saudi Arabia where Dennis works to Fort Collins, Colo., and met their younger son, Logan, to visit Matthew in the hospital. On Oct. 12, Matthew passed away.
Judy Shepard shares the story of Matthew and how the tragedy has focused the nation's attention on the growing epidemic of hate crimes when she speaks at 7 p.m., Wednesday, Feb. 3 in Clement Auditorium on the main campus of Austin Peay State University as part of the annual Student Affairs Unity Celebration. The event is free and open to the public. «Read the rest of this article»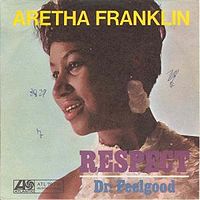 R-E-S-P-E-C-T find out what it means to me. How many remember this great song? It was first released by Otis Redding in 1965 but became the Signature Song for the great Aretha Franklin in 1967. While this may prove to be a bit of trivia information to use in your next game night, that is not what moved me to write this beautiful and chilly Clarksville evening.
I, like many of you was raised in a time when you K-N-E-W what R-E-S-P-E-C-T stood for and if you had a momentary lapse in judgment or memory your mother or father quickly corrected your course with a swift hand to the backside or a boomerang high heal. Respect to me was (and still is): «Read the rest of this article»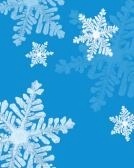 Clarksville-Montgomery County School System: Due to icing conditions in areas of the county and in school parking lots, all public schools will be closed on Tuesday, Feb. 2. The state writing assessment for fifth grade, eighth grade and eleventh grade will be administered the second day that students return to school.
APSU is open.
Clarksville Academy will be open for school tomorrow, February 2, 2010
Stewart County Schools are closed
Robertson County Schools closed
Clarksville Christian SchoolClosed
Clarksville 1st Nazarene CDC is opening 2 hours late
Christian County, KY Schools are opening 1 hour late