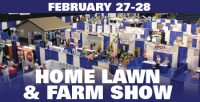 It's only 24 days until March 20th, the first official day of spring! And it's time to start thinking about your garden, your yard and what kind of flowers you want to plant this year! The Clarksville Area Chamber of Commerce is giving you a head start with their 1st Annual Home, Lawn & Farm Show, which is being held this weekend (February 27-28) from 10am-8pm Saturday, and Sunday from 12-8pm at Austin Peay State University's Red Barn at 256 Marion Street. General admission is $5, and children 12 & under are free.
Vendors will be available to help you accomplish all of your springtime goals, whether you want elaborate landscaping, a new patio or a simple flower bed. If you're thinking about renovating or redecorating your home, you don't want to miss this showcase of the year's new trends and must-have items. You'll also have the opportunity to see lawn and farm equipment demonstrations and test certain products.
Fifty local businesses will be showcased at the event and there will be multiple giveaways including:
Mature tree and professional planting $4,000 by Wofford's Nursery
$500 shopping spree to Home Depot by Environmental Water
$1,000 gift certificate for landscape products by Red River Concrete
Two white Rocking chairs and laminate flooring by Legends Bank
60 minute massage by Hillcrest Chiropractic
$500 gift certificate toward purchase of new roof by Quality Exterior
$50 gift card to Wofford's Nursery by Planters Bank
Hanging planter by Rocking Horse Glass
$250 Lowe's Gift Card by Fort Campbell Federal Credit Union
Kodak Zi8 Pocket HD Video Camera by Altra Federal Credit Union
Gift basket by Heritage Bank
$250 gift certificate for services by The Kutting Krew Lawn & Landscape
Two 32" Flat Screen T.V. (one each day) by The Clarksville Area Chamber of Commerce
Two $50 Gift Certificates to the Blackhorse (one each day) by Goodman Lumber
Two 42 inch LCD HD TVs by Anchor Mortgage
Hutson, Inc. is the signature sponsor for the event, and 5 Star Radio Group is the media sponsor.
Participating Vendors
Ace Exterminating Company
Alter Eco Systems
Altra Federal Credit Union
Anchor Mortgage
Anglin Concrete Countertops
Ann Marshbanks, Broker Crye-Leike Realtors
Better Business Bureau
Carter Fence & Landscaping
Clarksville Exteriors
Coldwell Banker/ Conroy Marable & Holleman
Culligan Water Consulting
Dixie Homecrafters/Gutter Guardian
Environmental Water Systems
F&M Bank
Fancy Vents
Farm Credit Services
Fort Campbell Federal Credit Union
Franklin American Mortgage
Frontier Basement Systems
Furniture Connection
Going Green Services, LLC
Goodman Lumber & Flooring
Greenland Sod Farm
Heritage Bank
Hillcrest Chiropractic
Holiday Accent
House Doctors Handyman Services
Hutson, Inc.
Jackson Roofing & Remodeling, Inc.
Lawn Doctor of Clarksville
Legends Bank
Mainstream Heating & Cooling
Montgomery County
Master Gardeners
Mattress Express
Merrell Home Improvements
Mr. Waterheater
Planters Bank
P.M. Lighting, LLC
Quality Exterior Company, LLC
Red River Concrete Products
Rocking Horse Glass
Straight Line Fence, LLC
The Choppin Block
The Kutting Krew Lawn & Landscape
Wofford's Nursery & Landscaping, LLC
Woodland Tractor & Lawn