Wesley Channels would not let Austin Peay State University lose.

With the Governors trailing 68-67 with less 19 seconds left in overtime, Channels drove the left side of the lane to hit a running one hander for the lead and then the senior guard knocked down a pair of free throws with 14.1 seconds to lift APSU to 71-68 win against Southeast Missouri, Saturday night, in Ohio Valley Conference action.
The victory improved the Govs to 17-14 overall and 11-7 in the OVC. More importantly the win allowed the Govs to clinch the No. 3 seed in this week's OVC tournament. The Govs will play host to Tennessee Tech, 7:30 p.m., Tuesday in tourney first-round action in Dave Aaron Arena.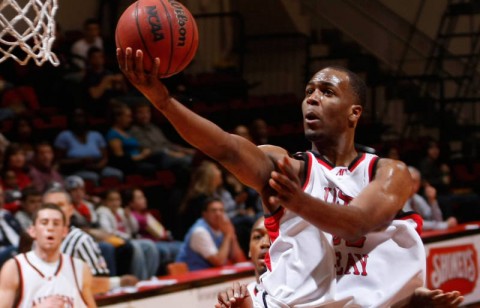 To capture the first-round home game, the Governors literally had to muster all their collective reserves against a determined Southeast Missouri State team that entered on a seven-game losing streak—a team that saw its own OVC tourney hope evaporate, Thursday night, in a loss to Tennessee State.
SEMO gained the lead with 5:30 left in the first half and held the advantage until 2:31 was left in the game. The Redhawks, in fact, led by as much as 11 second-half points, 44-33, with 13:19 left and still by nine with 9:09 remaining.
But Channels took command hitting a jumper and then Anthony Campbell, who suffered through a difficult first half, converted a three-point play and then Channels a layup to make it a two-point game.
However, SEMO then extended back to six quickly before Caleb Brown made a free throw and Justin Blake knocked down a three. Then Brown made two free throws to tie it at the 2:31 mark.
Channels then gave APSU the lead with a lane jumper before Cameron Butler worked his way inside to tie it. Then Campbell scored on a layup to give APSU the lead with 23 seconds left.
Butler responded to tie it with nine seconds left before APSU had one final chance. Brown had his layup attempt blocked with 1.7 seconds left before Channels had his fade-away jumper come up short at the buzzer.
In overtime, the Governors grabbed the early lead on a John Fraley free throw and then Channels scored on a layup. But SEMO's Marland Smith, the OVC Freshman of the Week, tied it at 62 with a three pointer before Campbell answered with a three of his own. Anthony Allison then slipped a screen to hit a game-tying three with 2:02 left.
Fraley made a free throw to give APSU a one-point lead but Derek Thompson drained a three to give SEMO a 68-66 advantage.
Brown drove the lane and was fouled on a potential game-tying attempt. However, he was only able to make one of two free throws with26 seconds left. That forced the Govs to immediately foul and that put Thompson at the line. The SEMO guard missed the free-throw attempt with Campbell gathering the rebound.
That set up Channels go-ahead play. He was fouled on the attempt but missed the free throw. However, Campbell got his right hand on the rebound and tipped it out, with the sophomore forward gathering it in. The Govs called timeout.
After the timeout, Channels was fouled with 14.1 seconds. This time he made both attempts.
The Governors defense then stepped up, forcing Smith to take a fall-away jumper deep in the right corner. Campbell gathered in the rebound as the horn sounded.
Channels led the Govs with 21 points while Campbell added 13. Blake, who scored seven first-half points, finished with 10 points as did Fraley, who had a double-double with 12 rebounds—it was his season's seventh double-double.
Butler and Smith led SEMO with 18 points, although the latter only had three in the final half.
Wesley Channels named OVC Player of the Week
Senior guard Wesley Channels, who scored 17 points after halftime in Austin Peay State University's overtime win at Southeast Missouri, Saturday, has been named Ohio Valley Conference Player of the Week.
It is the fourth time Channels has earned the award this season.
With the Governors needing a win, Saturday, to host a first-round OVC tourney host spot, Channels literally put the Govs on his back as APSU rallied from an 11-point second-half deficit. Then in overtime, with the Govs trailing by one, 68-67, with less than 19 seconds left, Channels drove the left side of the lane to hit a running one hander for the lead. Then the Memphis native knocked down a pair of free throws with 14.1 seconds to seal the 71-68 verdict.
Channels played all 45 minutes in the contest and finished the game with 21 points, his fourth straight 20-point outing. He had 23 points, including four three pointers, in Thursday night's loss at Eastern Illinois.
Tickets for the Ohio Valley Conference Tournament first-round action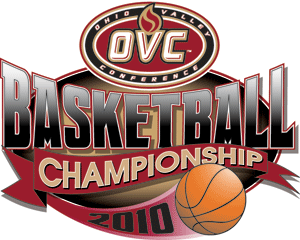 Tickets for Tuesday night's first-round Ohio Valley Conference Tournament first-round action are available through the Austin Peay ticket office.
Both the Govs and Lady Govs earned No. 3 seeds and will host No. 6 Tennessee Tech in Tuesday doubleheader. The Lady Govs will play at 5:30 p.m., with the Govs to follow at 7:30 p.m.
Tuesday, tickets are $10 each and will be available for purchase from the APSU Ticket Office until noon, Tuesday. Tickets also will be available at the gate.
Austin Peay season-ticket holders already have purchased this first-round tourney ticket in their season-ticket package. APSU students, meanwhile, will have 500 free tickets available to them from 11:30 a.m. – 1:30 p.m., at the Morgan University Center, both Monday and Tuesday.