The Clarksville Area Chamber of Commerce held their first annual  Home, Lawn, and Farm Show  this weekend and over 50 local businesses participated. The businesses ranged from Wofford's Nursery to area banks. Hutson Inc was the Marquee sponsor, they  manufacture and market many of the products that you use to keep your home, lawn, and farm in tip top shape. Several thousand Clarksvillians attended the two day show which was held at the Austin Peay State University's Red Barn.
The floor was well laid out and intermixed large well-known businesses with smaller ones. Prizes were given out to attendees ranging from a Mature Tree Planting by Wofford's Nursery valued at $4,000, to two 42 inch LCD HD TVs by Anchor Mortgage.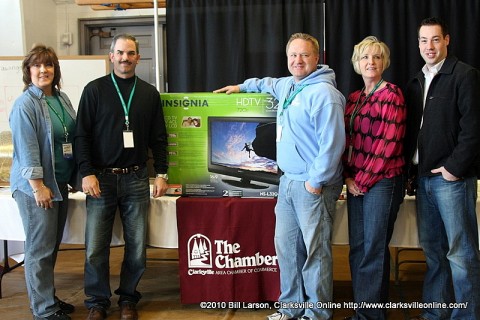 A bit of commentary, this event was a good start, however the success of this event shows the need to hold a true business expo in our city. Reaching new customers is one of the toughest tasks facing businesses, and events like these make that easy. Residents find out about products and services  they could use to improve their homes, and lives. While area businesses find new customers, build brand recognition, and get an opportunity to enhance their relationship with their existing clientele.
The Clarksville Area Chamber of Commerce did an excellent job organizing this event. They really do have their finger on the pulse of Clarksville Business.
Participating Vendors
Ace Exterminating Company
Alter Eco Systems
Altra Federal Credit Union
Anchor Mortgage
Anglin Concrete Countertops
Ann Marshbanks, Broker Crye-Leike Realtors
Better Business Bureau
Carter Fence & Landscaping
Clarksville Exteriors
Coldwell Banker/ Conroy Marable & Holleman
Culligan Water Consulting
Dixie Homecrafters/Gutter Guardian
Environmental Water Systems
F&M Bank, (A Clarksville Online Sponsor!)
Fancy Vents
Farm Credit Services
Fort Campbell Federal Credit Union
Franklin American Mortgage
Frontier Basement Systems
Furniture Connection
Going Green Services, LLC
Goodman Lumber & Flooring
Greenland Sod Farm
Heritage Bank (A Clarksville Online Sponsor!)
Hillcrest Chiropractic
Holiday Accent
House Doctors Handyman Services
Hutson, Inc.
Jackson Roofing & Remodeling, Inc.
Lawn Doctor of Clarksville
Legends Bank
Mainstream Heating & Cooling (A Clarksville Online Sponsor!)
Montgomery County
Master Gardeners
Mattress Express
Merrell Home Improvements
Mr. Waterheater
Planters Bank
P.M. Lighting, LLC
Quality Exterior Company, LLC
Red River Concrete Products
Rocking Horse Glass
Straight Line Fence, LLC
The Choppin Block
The Kutting Krew Lawn & Landscape
Wofford's Nursery & Landscaping, LLC
Woodland Tractor & Lawn