Tonight is "Pay what you can night at the Roxy Regional Theatre for the opening of their production of Steinbeck's "Of Mice and Men" at 8:00pm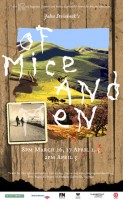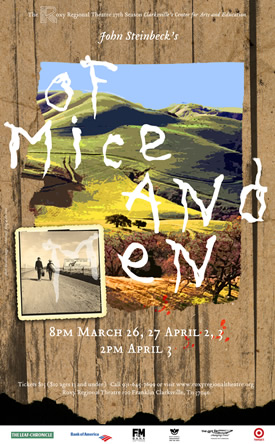 The classic John Steinbeck tale of two drifters in search of work in Depression-era California, OF MICE AND MEN, opens at the Roxy Regional Theatre on March 26 at 8pm, for a limited run.
OF MICE AND MEN stars Gili Getz as George and Kevin Hauver as the simple-minded Lennie, two men who have nothing in the world except each other and a dream that one day they will have some land of their own.  Their hopes are doomed, however, as Lennie, struggling against extreme cruelty, misunderstanding and jealousy, becomes a victim of his own strength.  Directed by John McDonald, this powerful production also features Jay Doolittle, Matthew Patrick, Collin Smith, Shadae Smith, Brian Veith, Jessica Shearer Wilson, Bryan Zoppi and Phil Whittinghill.
OF MICE AND MEN runs through April 3, playing Fridays and Saturdays at 8pm, with a 2pm matinee on Saturday, April 3. Tickets are $15 (adults) and $10 (ages 13 and under) and can be purchased online at www.roxyregionaltheatre.org, by phone at (931) 645-7699, or at the theatre during regular box office hours (9am-2pm, weekdays).
Photos
Cast
George ................................ Gili Getz
Lennie ............................. Kevin Hauver
Candy ............................. Jay Doolittle
The Boss ...................... Phil Whittinghill
Curley .......................... Matthew Patrick
Curley's Wife ............ Jessica Shearer Wilson
Slim ................................ Bryan Zoppi
Carlson ............................. Brian Veith
Whit ............................... Collin Smith
Crooks ....................... Shadae Lamar Smith
Gili Getz is delighted to be back at the Roxy after making his debut in As You Like It. Gili graduated from the American Academy of Dramatic Arts (NYC), where he received the Kirk Douglas Scholarship and was a member of the Academy Company. Favorite performances included Charlie's Aunt (Babberly), Modigliani (Zbo), and Fishing (Rob). He has performed in several plays in New York and Los Angeles including: Off-Off Broadway R.U.R. (Gall) at the Mazur Theatre, Off -Broadway Retzach (Flushed), Skin & Teeth (Orion)-for which he was nominated for Best Actor in a Drama (Artistic Director's Award), Astroglide/That's What (Man)-which he also wrote, The Broadway Play (Lieutenant), and Garbo's Cuban Lover (Thalberg). He appeared in New York in the U.S. Premiere of It Is Said that the Men are over in the Steel Tower. Gili has recently finished directing for the third time the Christmas musical tour of The Forgotten Carols, and can be seen in the independent film The Film You Did Not See. He would like to thank John and Tom for this wonderful experience, and his incredible wife Maeve for her love and support.
Jay Doolittle has appeared as Jacob Marley in A Christmas Carol, Tom Garrison in I Never Sang for My Father and Captain Walton in Mary Shelley's Frankenstein. He has also performed with the Creede Repertory Theatre in productions of Broadway Bound (Ben) and Light Up The Sky (Owen Turner). Previously he appeared at the Roxy in productions of Dracula, The Miracle Worker, All My Sons, A Woman Called Truth, The Merchant of Venice and Oedipus Rex. Audiences will also remember him in such shows as: Willy Loman in Death of a Salesman, Otto in Diary of Anne Frank, Duncan in Macbeth, Malvolio in Twelfth Night, the Judge in Inherit the Wind, Van Helsing in Dracula and Morrie Schwartz in Tuesdays With Morrie. Musicals include Arvide in Guys and Dolls and Cholet in Phantom and Amos in Chicago. National TV credits include A&E's City Confidential series and commercials for Lowe's Home Improvement Warehouse and Ryobi, Inc. Jay and his wife Donna make their home in Knoxville.
Phil Whittinghill: "It has been a long, long time since I have been on the Roxy stage and I am not quite sure what I am doing here now in the company of this extraordinary cast. John McDonald has exhibited the patience of Job with me and has encouraged me at every turn. My hope is that I can carry this off in a way that is at least, in some small way, a credit to John, Tom and the entire Roxy family." Phil has previously appeared on the Roxy stage in productions of The Noble Heart, Sunday in the Park with George, Amadeus, All the Way Home and Headin' South, Goin' North for the Clarksville Writers Conference, and he and his wife Jill put on Madison Street United Methodist Church's Christmas production each year.
Matthew Patrick is glad to be bad. Last seen as the Shakespearean lover Orlando, Matthew is taking a break from sporting all white, trading it in for the classic Johnny Cash black to play the sleazy cowhand Curley. Before the Roxy, Matthew spent some time in Dickson at the Gaslight Dinner Theatre singing harmonies as Sparky in Plaid Tidings. During his travels this past year, he has slain a vampire in Kentucky (Harker/Dracula), thwarted a murderous barber in North Carolina (Anthony/Sweeney Todd), and found a long lost sibling in New Hampshire (Eddie/Blood Brothers). Playing the role of a bully only on stage, Matthew reminds you that life is too short to waste it being mean to any person for any reason, and, on that note, would like to thank his loving parents and girlfriend Stephanie for helping him to overcome adversity of all varieties over the years.
Jessica Shearer Wilson is thrilled to be joining the Roxy for Of Mice and Men! She was previously seen at the Virginia Shakespeare Festival playing Hero (Much Ado About Nothing) and Perdita (Winter's Tale). Other professional credits include Rosalind (As You Like It / Roxy Regional Theatre/ Olney Theatre Center), Lucy (Dracula / Texas Repertory Theatre), Lady Macbeth (Macbeth / Warehouse Theatre), Virginia (Lamp Light and Shadow / Warehouse Theatre) and Kate (Taming of the Shrew / Warehouse Theatre). She holds an MFA in Acting from the University of Houston. Thanks so much to her family for their unconditional love and support.
Bryan Zoppi is delighted to be back for his second season at the Roxy. Bryan made his debut at the Roxy last season as Mark in Altar Boyz. Other Roxy credits include: Cats (Mungojerrie), Honk (Greylag / Turkey), Andrews Brothers (Lawrence), and Spelling Bee (Chip), Peter Rabbit & Friends (Peter Rabbit / Ginger) and, most recently, Touchstone in Shakespeare's As You Like It. Bryan grew up in Northern California. After graduating college with a degree in Musical Theater, he packed up everything he could fit in two bags and a carry-on and moved to New York, where he currently resides, to pursue his dream of performing. Bryan would like to think his family for their love and support.
Brian C Veith, a native of Southern California, recently made his Roxy debut with Peter Rabbit & Friends, Ring of Fire and As You Like It. Some of his favorite credits include Follies (with John Raitt, Betty Garret and Julie Wilson), Annie Get Your Gun, My Fair Lady (Freddy Hill) and Little Shop of Horrors (Seymore). He has also performed in Europe in several music festivals and in the world premiere of the opera Paradise Lost at the Berliner Dom in Germany. He is a graduate of Marymount Manhattan in NYC. Thanks to Tom, John, Adam, the cast, my family and friends back home, all the folks at N 2nd St Church of Christ for their hospitality and to God. All Good Gifts.
Collin Smith is delighted to be performing in Of Mice and Men, following his Roxy debut in As You Like It as Duke Frederick. Favorite roles include: Edward in Skylight (Actors Theater of Louisville), Lust in Sin (Bohemian Archaelogy), Cannaphlit in Time Flies (Abingdon Theater), and Vince in Buried Child (Quadboro). Film/Television: As the World Turns, Unscripted, and The Big Fiddle, which was recently accepted into the SXSW film festival. He would like to thank his family, friends, teachers (MH!), and welcome his nephew into the world!!!
Shadae Lamar Smith's credits include: OFF-BROADWAY – Idol: The Musical, WONDER:lust; OFF-OFF BROADWAY – The Liberation of Little Lulu; REGIONAL – Mark Twain: 100 Years of Comedy (Roxy Regional Theatre); COLLEGE – Faust/Faust, The Blind Age. Shadae earned his degree in Theatre Performance from Fordham University. He would like to thank John and Tom for this amazing opportunity, and the cast for all their hard work. He would also like to thank his family, friends and, last but not least, God for keeping him moving.
John McDonald is the founder and Artistic Director of the Roxy Regional Theatre. A graduate of the American Academy of Dramatic Arts, as an actor John has worked with the New York Shakespeare Festival, Macbeth with James Earl Jones; Long Wharf Theatre, A Lion in Winter with Ralph Waite; and productions of Long Days Journey Into Night (James); Macbeth (Macbeth); Who's Afraid of Virginia Woolf? (George); and numerous others. As an instructor, he has taught theatre at the American Academy, The Rhodes School, The Dwight School, Hewitt, and is the creator of the Roxy Saturday Workshop, an acting program for young performers. Writing and production credits include, among others, Jekyll and Hyde, The Red Badge of Courage, Dorothy Dix: Speaks!, Nora Witzel: A Very Curious Fella, The Picture of Dorian Gray, All Quiet on the Western Front, Poe Unearthed and Headin' South, Goin' North, a staged reading for the Fourth Annual Clarksville Writers Conference.
Tom Thayer has been Managing Director of the Roxy Regional Theatre since its inception in 1983. Training includes Austin Peay State University and Lambuth College, and he is a graduate of the American Musical and Dramatic Academy, NYC. While living in New York, he worked as a public relations liaison for the Metropolitan Museum of Art, created and taught dance programs at the Dwight School and created and taught young dramatics for the Rhodes School. He is the founder of the Clarksville Theatre Guild, as well as the Roxy Regional Theatre, and has performed off-Broadway as well as throughout the South. With Artistic Director John McDonald, he created the Roxy's Professional Company and serves as a director of the Summer Drama Camp, which is sponsored in conjunction with the Clarksville-Montgomery County Parks and Recreation Dept. He was awarded the Ovation Award from the Austin Peay State University Center of Creative Arts as well as the Point of Pride Award from the Clarksville-Montgomery County Board of Education and a Lifetime Achievement Award from the Clarksville Arts & Heritage Development Council.
Adam Kurtz (Production Stage Manager / Company Manager) is a native of Detroit, Michigan. He is a graduate of Wayne State University, where he received a BFA in Theatre in Design/Technology, specializing in Stage Management. This is his second season at the Roxy, and he is excited to be back. His previous Roxy credits include A Christmas Carol, Altar Boyz, Macbeth, All Quiet on the Western Front, CATS, RENT, The 25th Annual Putnam County Spelling Bee, The Beauty Queen of Leenane, A Streetcar Named Desire, Hansel and Gretel, Peter Rabbit & Friends, Ring of Fire and As You Like It. Adam would like to thank Tom and John for this wonderful opportunity and his family for all of their support.