Tennessee Arbor Day Poster Contest Winners Announced – Winners will receive plaque, savings bond and other prizes

NASHVILLE, Tenn. – Emma Kerley, a fifth-grader at Nolan Elementary School in Signal Mountain was recently named state winner in the 2010 Tennessee Arbor Day Poster Contest.  Second place honors went to Trenton Hodges of Northfield Elementary School in Sparta. Kayla Lowe of H.Y. Livesy Middle School in Harrogate was the third place winner. The annual contest was open to all Tennessee fifth-graders.
"The annual Arbor Day Poster Contest is a great way to raise awareness of the importance of agriculture and natural resources through education," said state Agriculture Commissioner Ken Givens. "I extend my congratulations to our winners and to all the fifth-graders who invested their time and talent in recognizing the value of trees in our environment."
«Read the rest of this article»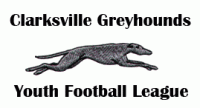 The Clarksville Greyhounds Youth Football League will be holding registrations for the 2010 season at Governors' Square Mall on April 10th, 17th and 24th from 10:00 am-2:00 pm. There will be four age groups 7-8, 9-10, 11-12, and 13-14. The Clarksville Greyhounds are a member of the Tennessee Youth Football Alliance and will play teams from various areas throughout Middle TN. Come join in on the excitement!!! Practices begin Monday July 26th and the TYFA Jamboree will be Saturday August 14th.
The Greyhounds will also hold 2 camps in June of this year. If you are interested in playing, coaching or attending one of our camps, please send an email to or call 931-472-6101. Visit our website at www.eteamz.com/clarksvillegreyhoundsyouthfootball."
The city-owned Clarksville Gas & Water is unconscionably raising our gas rates, without warning or explanation, and local media is not reporting on it. My January bill was at a rate of 34 cents per 100 cubic feet, and my February bill was at 51 cents per 100 cubic feet, which was a 50% increase over January's bill. Now my March bill is at a rate of 68 cents per 100 cubic feet, which is a 100% increase over January's bill! How much must CG&W charge us in order to create massive public backlash? Please join me, as I am ready to protest now!