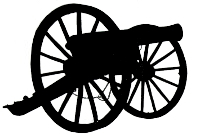 It was just 150 years ago that our nation was torn apart by the Civil War. Brother faced off against brother in often brutal battles. Even after the Union's victory and the eventual reunification of the southern states lingering tensions remained for many years.
It is said time heals all wounds and indeed and we are looking at the approaching sesquicentennial of the Civil War in 2011 with a air of celebration,recognizing of the history of America in a way that everyone can embrace.
We are fortunate to be in an area with a rich Civil War heritage including Fort Defiance (Fort Bruce), nearby Fort Donelson, and other Civil War sites. City and County leaders hope to be ready to attract tourists who will be the traveling the country visiting civil war era sites as a part of the Civil War Sesquicentennial.
Clarksville-Montgomery County began the preparations by starting the design and construction of a new Interpretive Center for Clarksville's Civil War site, Fort Defiance.
The new site will feature a fully working replica of an 1847 six-pounder canon that was created from Civil War Era plans. The cannon was cast and donated by the Clarksville Foundry and has been placed at the Montgomery County courthouse until it is able to be relocated to Ft. Defiance/Ft. Bruce when the interpretive center construction is completed in late 2010. The cannon is the first to be made in Montgomery County since the Civil War. At the official kickoff event the canon was fired by County Mayor Carolyn Bowers.


The Clarksville Foundry is one of the oldest continuing businesses (est.1847) in the state. Charlie Foust, the president of Clarksville Foundry, is the third generation of his family to head the business. They take a lot of pride in the heritage of the company and our community. "This will not be the last civil war canon we cast" Charlie Foust said.
The carriage the cannon was placed on was used in the civil war, and is on long-term loan to Clarksville from the Shiloh National Battlefield.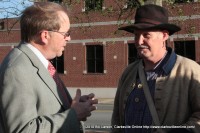 A joint city-county appointed Civil War 150 Steering Commission, led by Frank Lott, BLF Marketing, and Brad Martin of Lyle, Cook, Martin Architects, is working to bring to life noteworthy events and tours of important sites relevant to Clarksville's and Montgomery County's Civil War heritage. These efforts will allow both citizens and visitors a chance to learn, relive and understand the impact that the Civil War had on the citizens at that time and how it affects our society even today.
Photo Gallery