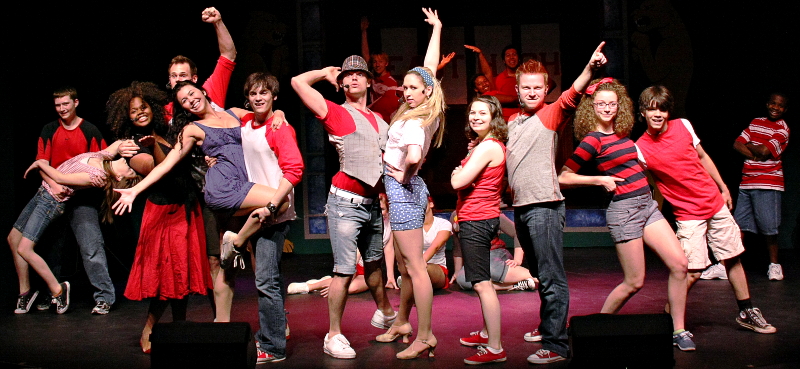 The Roxy Regional Theatre's opens their production of Disney's High School Musical 2 this evening. The show is based on the Disney Channel Original Movie written by Peter Barsocchini, the show is directed by Tom Thayer, and features choreography by Chi Lopes. Starring Aaron Riesebeck as Troy Bolton, and Mindy Wedner as Gabriella Montez, Maggie Politi as Sharpay Evans, and Bryan Zoppi as her Brother Ryan.  Q108's  Ryan Ploeckelman plays Mr. Fulton the manager of the Country club. The catchy and upbeat music was written by Matthew Gerrard, Robbie Nevil, David N. Lawrence, Faye Greenberg, Randy Petersen, Kevin Quinn, Jamie Houston, Andy Dodd, and Adam Watts. The production mixes professional actors and actresses with the talented kids from the Roxy's School of the Arts.
In this production, it's summertime and school is out for the East High Wildcats. Like most kids the Wildcats need summer jobs. Basketball Captain Troy Bolton not only lands a job at the local country club, but also finds positions for his girlfriend Gabriella and the rest of the Wildcats. When Troy starts to worry about his future, Sharpay takes advantage of Troy's situation to force a wedge between him and Gabriella, and schemes to prevent the Gabriella and the Wildcats from being able to challenge her in the Talent show.
When creating a stage version of a movie one of the hardest tasks is to assemble a cast that meets the already high expectations of your audience, and in this regard the Roxy has done a simply amazing job.  The casting is as close to perfect as I think you can ever come without using the original actors. This cast really resembles the original actors, and the actors really own their parts. It's incredible the level professionalism that the young people in this show exhibit. The dancing in this show is something to see. The actors spent a lot of time working on the intricate choreography with director Tom Thayer, along with Rebecca Allsbrooks from the Showtime Dance Studio, and it really shows in their performance.
Introducing young people to the arts has always been a goal of the Roxy Regional Theatre and by hosting musical programs such as this one they can bring the love of theatre to a new generation! Bravo!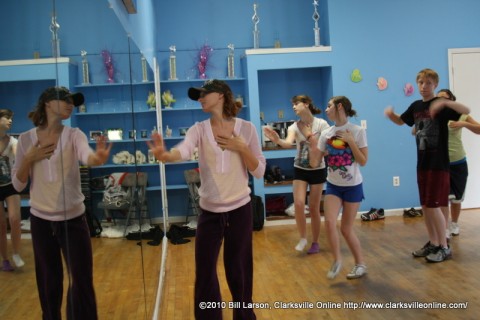 The show runs from April 9th until May 15th and there will be a matinee performance on Saturday during the upcoming Rivers and Spires Festival (April 15th-17th). Tickets are ?$20 for adults and $15 for children 13 and under.
Photo Gallery
Cast
Troy Bolton ................... Aaron Riesebeck
Gabriella Montez .............. Mindy Wedner
Sharpay  Evans ................ Maggie Politi
Ryan Evans .................... Bryan Zoppi
Chad Danforth ................. Tom Garruto
Taylor  McKessie .............. Adrielle Belle
Zeke Baylor ................... Drew Torkelson
Martha Cox .................... Sarah Levine
Mr. Fulton .................... Ryan Ploeckelman
Jack Scott .................... Christian Redden
Kelsi Nielsen ................. Joanna Patmore
Blossom ....................... Lauren Armstead
Violet ........................ Marguerite Armstead
Peaches ....................... Kayla Jones
Ensemble ...................... Webb Booth, Christian Boyd, Humberto Figueroa,
                                Jasmine Gardner, Samantha Grimes,
                                Jacob Ritchart, & Amy Wyer
Directed by Tom Thayer
Choreographed by Chi Lopes
Cast Biographies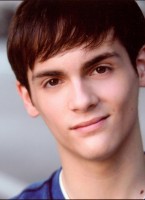 Aaron Riesebeck is thrilled to be making his professional debut at the Roxy.  He has received training at the Paper Mill Playhouse in New Jersey, and recently graduated from the American Musical and Dramatic Academy in NYC.  Past roles include Troy (HSM), Tom-Tom (Babes in Toyland) and Jojo (Seussical).  Aaron does not have a website and is not a member of AEA, but you can Bet On It that he will be!  What time is it? Acknowledgment time!  Thank you to Tom, John, Adam, Katie, Chi and everyone at the Roxy.  Thank you to the Whittinghills for opening their home to us while we stayed in Clarksville.  And thank you to my family and friends for all of the support, especially Mom, Dad, Stef, Christina, Nana and Pop Pop.  Aaron wants this AMAZING cast to Work This Out because We're All In This Together right guys?  All For One!
Mindy Wedner is very excited to return to the Roxy Theatre to play Gabriella.  She was recently seen at the Roxy in Ring of Fire and Peter Rabbit & Friends.  ?Mindy is a graduate of the American Musical and Dramatic Academy in New York City. Other credits include Fame! at the Tropicana Hotel and Resort in Atlantic City, Grease (Rizzo), Crazy For You (Polly Baker), Les Miserables (Eponine) and many others.  Thanks to everyone, and love to GP, GM, GE, GA, P, M, D! xoxo, Hi Big Al!  www.mindywedner.com
Maggie Politi returns to the Roxy after playing Penny in Honk and Demeter in CATS last season.  She traveled from New York City where she studies with Victoria Clark and recently performed in Sondheim: The Birthday Concert at Lincoln Center.  Some of her previous regional credits include: Oklahoma, Thoroughly Modern Millie, Chicago, RENT, Les Miserables, Footloose, and Myths and Hymns. She thanks Tom and John for the opportunity and her parents for their love and support.
Bryan Zoppi: 1-2-3 Redlight, Hello! What a dream to be playing Ryan Evans in High School Musical 2 at the Roxy. Bryan grew up in Northern California.  After graduating college with a degree in Musical Theater, he packed up everything he could fit in two bags and a carry-on and moved to New York, where he currently resides. Bryan loves working at the Roxy, and you may recognize him from past Roxy productions, such as:  Altar Boyz (Mark), Cats (Mungojerrie), Honk (Greylag / Turkey), Spelling Bee (Chip), Peter Rabbit & Friends (Peter Rabbit), As You Like It (Touchstone) and, most recently, Slim in Of Mice and Men.  Bryan would like to thank Tom and John for their generosity, friendship and trust.
Tom Garruto is excited to make his Roxy debut in this production! What time is it?! Roxy-time! Other regional credits include Les Liaisons Dangereuses (Azolan), The Lieutenant of Inishmore (James u/s), both at Syracuse Stage, Seussical: The Musical (Who/Featured Dancer), and West Side Story (Snowboy), both at Papermill Theatre. Other favorite roles include The Pillowman (Katurian), The Rocky Horror Show (Riff Raff), Bare: A Pop Opera (Matt Lloyd), and The Caucasian Chalk Circle (The Storyteller). Tom has been studying musical theatre as long as he can remember and has received training through programs from the Paper Mill Playhouse, Carnegie Mellon University, Rutgers University: Mason Gross School for the Performing Arts, The Arielle Tepper Semester for Careers in Theatre, and holds a BFA in Musical Theatre from Syracuse University.  Many thanks to Tom, John, Chi, Joe, this wonderful cast, and his parents for opportunities, love, and support.  We're all in this together! www.tomgarruto.com
Adrielle Belle is thrilled to be a part of HSM 2 at the Roxy.  A recent graduate of the American Musical and Dramatic Academy in NYC, her credits include a regional production of Dreamgirls the musical in New York. She would like to thank everyone at the Roxy for this great opportunity, Christopher "the miracle worker" Stephens for his endless support and guidance, Jesus, Oprah and her fabulous cast mates for making every single day, last and last and last!
Drew Torkelson is totally stoked to be cookin' it up again at the Roxy as Zeke in HSM2, after appearing as Le Beau and Silvius is As You Like It and as Hansel in Hansel and Gretel. A graduate of the American Musical and Dramatic Academy, his previous performing credits include Seymour in Little Shop of Horrors, Kenickie in Grease, Anything Goes, Into the Woods, High School Musical, Camelot, and Miracle on 34th St. Drew would like to thank his parents for letting him go His Own Way, his friends for their Every Day support, and Tom and John for being Fabulous. What time is it!?
Sarah Levine is making her Roxy debut! New York: Off Broadway: Pinkalicious, The Musical (New World Stages), Off-Off Broadway: Clothes For a Summer Hotel (White Horse Theater), It Pays To Advertise (Metropolitan Playhouse), Sarah Wants The Moon (78th Street Theatre Lab), My New York (Vital Theatre Company). Favorite roles include Nellie in Jekyll And Hyde, Jenny in Quilters, The Homeless Woman in A New Brain.
BA, Sarah Lawrence College. Love and thanks to Mom and Dad.
Ryan Ploeckelman is very excited to be appearing in High School Musical 2 here at the Roxy.  He was last seen as Kropp in the Roxy's world premiere of All Quiet on the Western Front.  He has also performed in theotherspace productions of Closer and Love Letters.  Ryan appears on Q108 radio each weekday morning for the "Ryan and Gretchen" show.
Christian Albright Redden is a homeschooled 10th grader from Cumberland Furnace in Dickson County.  He has been active in the theatre since he was six, and was most recently seen in Honk Jr. at The Renaissance Center and in As You Like It here at the Roxy.  Christian is a boy scout, a soccer player, a member of his church choir, and a student of dance and voice at The Renaissance Center and drama at the Roxy.  He would like to thank Mr. John and Mr. Tom for this opportunity and his parents for driving him so many miles.
Joanna Patmore is a freshman at CHS.  She has been at the Roxy doing plays and taking classes for almost five years and will continue to for as long as possible. Some of her favorite roles are Mary Tilford in The Children's Hour, Genie in Aladdin, and Martha in A Christmas Carol.
Lauren Armstead, a Clarksville native, has performed in a number of productions in Hopkinsville, KY, at the YMCA.  Some include Honk! Jr. and Dear Edwina, Jr. Lauren is an eighth- grader at West Creek Middle School.
Marguerite Armstead, a Clarksville native, has been performing at the Roxy since age fourteen. She has participated in the Saturday classes and Parks and Rec summer sessions. Recently, she was in A Christmas Carol as Martha.  Marguerite is a junior at West Creek High School.
Kayla Jones is a freshman at Northwest High School.  She is making her Roxy debut with High School Musical 2.
Webb Booth is a freshman at Rossview High School.  Past Roxy credits include: Jaq the Mouse in Cinderella Jr., Peter in A Christmas Carol and the newsboy in A Streetcar Named Desire.  Webb sings in the APSU Community School of the Arts Clarksville Teen Choir, is a member of Rossview High School Drama Club, and is guitarist and lead singer in St. Bethlehem UMC Praise band "Marked."
Christian Andrew Boyd has acted at the Roxy Regional Theatre for 3 years. Shows include High School Musical, A Christmas Carol, and Cinderella Jr. After High School Musical 2, he will appear in Beauty and the Beast Jr. as Cogsworth. Other credits include Lessons of Oz and Hairy Scary at Richview Middle School. Christian also plays saxophone in his school band and is currently learning piano.
Humberto Figueroa's past performance credits include Rent, High School Musical (Ripper), All Shook Up, Honk, Beauty and the Beast, Bye Bye Birdie, Aladdin Jr., Cinderella Jr. (Jaq the Mouse), Jungle Book (King Louie) and Mulan Jr. (Captain Shang).
Jasmine Gardner is a seventh grade student at Richview Middle School.  She enjoys singing, dancing, gymnastics, and playing guitar.  She has been a cast member in Cinderella and Alice in Wonderland at Meridian Little Theatre in Meridian, Mississippi.  This is her first production at the Roxy and is excited to be a part of it!
Samantha Grimes, a student at Richview Middle School, has been part of the Roxy Regional School of the Arts for the past four years.  Previous Roxy performance credits include Aladdin Jr., High School Musical, Jungle Book, Mulan Jr., Honk and The Crucible.
Jacob Ritchart is finishing his 8th grade year at Laurel Springs School.  He has appeared in past productions at the Roxy Regional Theatre, including High School Musical, A Christmas Carol, Macbeth and A Streetcar Named Desire.
Amy Wyer attends the 7th grade at West Creek Middle School.  Past Roxy performance credits include The Jungle Book, The Children's Hour, The Crucible, Macbeth, Honk!, Disney's Cinderella Jr. and Mulan Jr.
Tom Thayer has been Managing Director of the Roxy Regional Theatre since its inception in 1983.  Training includes Austin Peay State University and Lambuth College, and he is a graduate of the American Musical and Dramatic Academy, NYC.  While living in New York, he worked as a public relations liaison for the Metropolitan Museum of Art, created and taught dance programs at the Dwight School and created and taught young dramatics for the Rhodes School.  He is the founder of the Clarksville Theatre Guild, as well as the Roxy Regional Theatre, and has performed off-Broadway as well as throughout the South.  With Artistic Director John McDonald, he created the Roxy's Professional Company and serves as a director of the Summer Drama Camp, which is sponsored in conjunction with the Clarksville-Montgomery County Parks and Recreation Dept.  He was awarded the Ovation Award from the Austin Peay State University Center of Creative Arts as well as the Point of Pride Award from the Clarksville-Montgomery County Board of Education and a Lifetime Achievement Award from the Clarksville Arts & Heritage Development Council.
John McDonald is the founder and Artistic Director of the Roxy Regional Theatre.  A graduate of the American Academy of Dramatic Arts, as an actor John has worked with the New York Shakespeare Festival,  Macbeth with James Earl Jones; Long Wharf Theatre, A Lion in Winter with Ralph Waite; and productions of Long Days Journey Into Night (James); Macbeth (Macbeth); Who's Afraid of Virginia Woolf? (George); and numerous others.  As an instructor, he has taught theatre at the American Academy, The Rhodes School, The Dwight School, Hewitt, and is the creator of the Roxy Saturday Workshop, an acting program for young performers.  Writing and production credits include, among others, Jekyll and Hyde, The Red Badge of Courage, Dorothy Dix: Speaks!, Nora Witzel: A Very Curious Fella, The Picture of Dorian Gray, All Quiet on the Western Front, Poe Unearthed and Headin' South, Goin' North, a staged reading for the Fourth Annual Clarksville Writers Conference.
Adam Kurtz (Production Stage Manager / Company Manager) is a native of Detroit, Michigan.  He is a graduate of Wayne State University, where he received a BFA in Theatre in Design/Technology, specializing in Stage Management.  This is his second season at the Roxy, and he is excited to be back.  His previous Roxy credits include A Christmas Carol, Altar Boyz, Macbeth, All Quiet on the Western Front, CATS, RENT, The 25th Annual Putnam County Spelling Bee, The Beauty Queen of Leenane, A Streetcar Named Desire, Hansel and Gretel, Peter Rabbit & Friends, Ring of Fire, As You Like It and Of Mice and Men.  Adam would like to thank Tom and John for this wonderful opportunity and his family for all of their support.
Chi Lopes (choreographer), a Nashville native, started her professional dance career at 16 on the televised Country Music Awards performing with Dwight Yoakum.  She continued to perform with Nashville artists, Diamond Rio, Chris Cagle, Ray Stevens, LeAnn Rimes, and Faith Hill.  Chi has been teaching master classes worldwide and her studio choreography has won many choreography awards including the top awards at national competitions. She also works with dance teams, corporate clients and more. Chi has a versatile background in all genres and styles of dance including: jazz, ballet, pointe, contemporary, hip hop, funk, partnering, salsa, swing, Broadway style, and several European cultures of dance. In the last few years Chi has choreographed a nightclub show at the Wyndham Resort Bahamas, High Rollers Ball New Yrs. Eve at Harrah's Hotel and Casino, Krystal Meyers on the Revolve Tour, and most recently a Dollar General corporate show. For Bookings: contact DDO Artists Agency in LA or Nashville.  www.MySpace.com/BookingChi