In a gala event at the Roxy Regional Theatre local Radio Station owner and Comedian Hank Bonecutter's dream of using his love of comedy to enact community change came true. The first Comedy on the Cumberland raised approximately $6,000 of which the proceeds went to benefit Project F.U.E.L.
Project F.U.E.L. feeds hungry children in the Clarksville/Montgomery County school system [1]. "Over twelve hundred school children leave school on Friday, and don't have a solid meal again until they return to school on Monday", said Bonecutter, "This is embarrassing and unacceptable". The life's mission of Denise Skidmore, who was led to this effort by her Christian faith. "I was searching for a purpose in my life, wondering what would be my footprint if I were to die today" she said, "I want to feed every child I can. I won't stop until they are all taken care of".
The success of this show has already created quite a buzz among Nashville comedians. With comedians contacting Bonecutter to see how they can get to Clarksville to be part of future Comedy on the Cumberland shows.
John McDonald and Tom Thayer from the Roxy Regional Theatre graciously provided the use of their luxurious theatre as the venue for this charity benefit.
F&M bank and Wendy's of Clarksville [2] provided the financial backing for the event, with Clarksville Online [3], Discover Clarksville [4], Ad One [5], Clarksville's Best Buys [6] along with CDE Lightband [7] providing promotion for the event. "All of our partners jumped on this opportunity to help Project F.U.E.L without hesitation", said Bonecutter, "We couldn't have done it without them".
During his time on the mic, Bonecutter poked good natured fun at local political figures, including Mayor Johnny Piper, Kim McMillan, and Gabe Segovia, among others. "There really isn't that much comedy in Clarksville, unless you count the city council." he joked, "Piper what are you doing! What do you mean you are not running for re-election! You can't not run for re-election, think of the people here" Bonecutter implored, and in an obvious comedic reference to the Leaf Chronicle which was missing in action with regard to providing coverage of this event, he asked "What are the story chatters going to do!"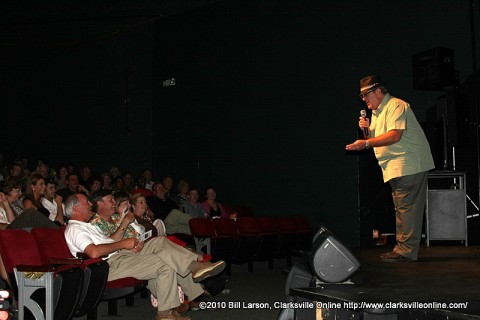 Flamboyant Attorney Kevin Kennedy was also a target for some good natured ribbing from several of the comedians. "Wearing any Jewelry?" asked Bonecutter. A few minutes later he quipped "Give me one of those rings I can feed about 50 kids for a year"
Dustin Laughtery
The opening comic Dustin Laughtery first met Hank Bonecutter in a comedy writing class held by the headliner for this show Rik Roberts. "We walked in, there was like five of us in this class and we didn't hit it off right away, because well we're not easy to like when you first meet us. But Dustin and I became quick friends, we knew we had a lot we could share with each other, and we did. We kept in touch, we write together, and perform together."
"Unbelievable, I didn't know there was this many pretty people in Clarksville, especially you sir" Dustin Laughtery said referring to Kevin Kennedy. To which Kevin replied "Go ahead!" Laughtery responded "You are one fine looking dude. Don't worry I am not gay" He reassured Kennedy, "I am just curious. I got a few questions I need answered. I blame the internet!"
He quipped jokes about his weight, spoke about High School Musical2 , Health care, Tiger Woods, Sports, Food, Family, among other topics.
We all got Health care now" to which the crowd laughed, "I actually did the math on health care, it comes out to $27,000 per American. I don't know about ya'll but I want to take cash option! You can keep your Prilosec. I want to buy a Camero!"
To which the crowd laughed.
When Laughtery finished his number Hank Bonecutter than came back on stage and told a few more jokes before introducing a video produced by Ad One Advertising for the current Roxy production of High School Musical 2. "It's showing for the next couple of weeks, you will get a chance to see it Rivers and Spires" said Bonecutter when he returned to the stage when the video was finished.
Barb Neligan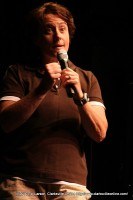 He then introduced the next comedian Barb Neligan [8],
Barb Neligan is the very first comic that I met in Nashville about a year or so ago, I was in one of Rik's Improv classes, we hit it off right away and became instant friends. We've done some shows together at Zanies, she's very meticulous, very sharp, funny, she works hard at what she does"
"Well I've been saying is that we were the oldest of everyone there, so we bonded over that." she joked
She talked about Accents, New England, the Pilgrims, Health Care, Religion, Having Children, Golf, Thanksgiving, Hunting, and social networking sites like Facebook, among other topics.
…The Pilgrims disembarked, and they encountered the Indians. The Indians stared at the Pilgrims, the Pilgrims stared back, and the Indians spoke first, "Welcome to the Plymouth Rock 7-11"…
The crowd roared in laughter.
…You never see any black Mormon's, and I think I have figured out why. It's because there is no way that two black guys could go door to door in a strange neighborhood and not get arrested! Now two of my guys Irish Catholics could totally get away with it. Because people would assume they are on bicycles because their licenses were revoked after their last DUI…
When she finished Bonecutter then returned to the stage where he joked with some of the his friends among the audience, and introduced promotional commercial for the upcoming Rivers and Spires.
Jonnie W.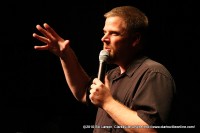 He then introduced comedian Jonnie W [9]. "He is generally a really really nice guy, he is very talented, very funny. He is also a pastor, he is a pastor of a church in Nashville. He pastors youth, college kids. What an interesting age. He is a very special guy" said Bonecutter.
Johnnie W. talked about Names, People of Middle Eastern Descent, Home Schooling, Prescription Drug Side affects, Marriage, Weight, among other topics.
It's tough being of Middle Eastern decent in this country right now. You know you have people profiling you; watching every move you've made; everything you say, your are afraid they will take it the wrong way. I actually have a Middle Eastern friend, he's trying to start his own rental business for like inflatable games for kids parties you know. I was like how's that going? To which he responded "I learned pretty quickly not to refer to them as blowups."
The crowd laughed.
You guys have dogs. You know, you have to know, if your dog could talk, there is no way it would say I love you! Please know that. Your dog has had it up to here with you! If your dog could talk to you it would go like this. I really appreciate that dry kibble you have been feeding me, I see you have that nice sirloin…And for the last time will you stop with the baby talk I am 47 years old. I am an adult and I expect to be treated like one! If you will excuse me I am going to go over here and chew on my butt for an hour!
Bonecutter then spoke about Project F.U.E.L., and showed a short video about it. He brought up Denise Skidmore to the applause of the crowd. He informed her that they had collected over $4,000 for Project F.U.E.L., a number which has since gone up with as the result of other committed donations.
Then he joked with Kevin Kennedy again, friends from the country club, Mayor Piper again.
Rik Roberts
Bonecutter then started to introduce headliner Rik Roberts.
Our next performer, our headliner as we call him tonight. I will always remember Rik Roberts sending me an email saying it's never too late to get into the game. He's been an entertainer, a motivational speaker, a performer for 19 years. He is a phenomenal individual. He has a big heart, a Christian man with a wonderful family, and he's got a gift to teach. But he is so funny, I hope you enjoy"
Rik talked about High Cholesterol, Food, Exercising, Quitting Smoking, Family, Impersonating a Police Officer, and other topics. Then he sang several very funny songs.
I was at the doctor's about three weeks ago, turns out I have high cholesterol kicking in pretty hard, I have a 425 Cholesterol number, that's the highest in my county, so I get to go to regionals in a couple of weekends! I have to go up against the guy that works at Shoney's, so wish me luck! He's probably taking gravy home!
Rik resembles and does a great performance of Mayberry's Barney Fife.
The diaper changing that's all over finally Boy's are hard to potty train don't they ladies. It took almost three or four years to find out about the fruit loop/cheerios method. Ya'll know about that? It works wonders. If got a little boy all you do keep is bowls of fruit loops in your bathroom. When he has to go potty you thow a couple in there. Now he has target practice to think about. Now he's doing something fun instead of doing what he's told to do! That works… But I forgot, we had friends who visited my house that had no idea what was going on in that bathroom. Never even dawned on me. Had a cookout, friend of mine walked out of there. He's like man you are cheap, just buy some potpourri.
Rik closed out with some comedic songs. You can hear them on Rik's CD Live from Cedar Ridge which is available from his web site [11]. I highly recommend getting a copy it's a very funny CD.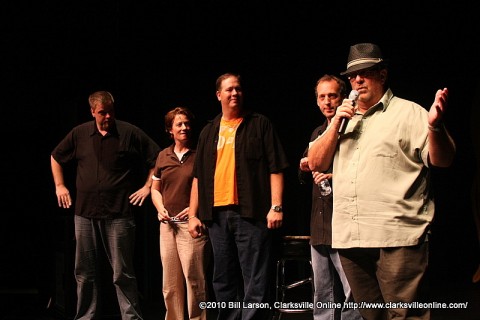 That ended the night, but if you missed out on this show don't worry! Hank Bonecutter is planning another Comedy on the Cumberland in July! Make sure you buy your tickets early! Keep an eye here for more information on the upcoming show as it becomes available!
Photo Gallery