[1]Homemade Whole Wheat Crackers are really tasty and even my picky eater likes them. Roll them out very, very… very thinly. If you only roll them out to a quarter inch thick, they will be kind of chewy, which is OK, but if you like crisp crackers, go ahead and roll them out to 1/8 inch. I substituted maple syrup for the honey because I was out of honey and I substituted more whole wheat flour for the extra bran this time. Either way is great!
Whole Wheat Crackers
1 cup wheat flour
1 tbsp wheat bran
1 tsp corn meal
1/2 tsp salt
1/4 tsp baking powder
1/2 tsp sugar
1 tsp honey
2 tbsp butter, chilled
1/4 cup water, plus 1-2 tbsp, if needed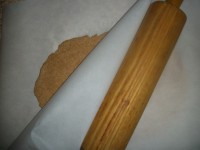 [2]Before you bake these crackers, you can sprinkle them with olive oil, sesame seed, salt, black pepper, paprika, or any combination of ingredients you like.
I use a food processor for this recipe! Its easy and fast. If you don't use the food processor, use a hand or stand mixer.
Combine all ingredients except the water in the bowl of your food processor and process until well combined. Add water little by little and continue to process until mixture starts to come together into a dough.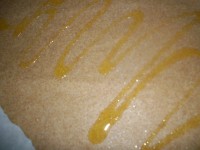 [3]Mash the dough into a flat circle, wrap in plastic wrap and refrigerate for 30 minutes.
Preheat oven to 375*
I like to use parchment paper for these crackers. I roll out the dough directly on the parchment paper and then lift the paper and dough together to the cookie sheet.
[4]Place the circle of dough on the parchment paper, cover the dough with another piece of parchment. Roll the dough out to about 1/8 inch thickness. Lift the dough and parchment paper and place on the baking sheet. If you have a sock on your roller, you won't need another sheet of parchment to cover the dough. At this point you can put all your seasonings on the dough. I used olive oil, sea salt, crushed black pepper and garlic granules.
Prick the dough with a fork or toothpick. Use a pizza cutter or small sharp knife to cut the dough into 1 inch squares or diamonds. I re-roll any excess dough.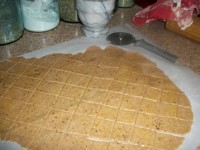 [5]
Place the bottom piece of parchment with the dough on it, onto the baking sheet and into the oven.
Bake at 375 for 18-20 minutes, until edges are brown. Slide the baked crackers off the cookie sheet and onto a wire rack to cool.
Cool completely and store in an airtight container.