The Homes for Our Troops Build Brigade for Army SSG Heath Calhoun will begin tomorrow morning at 8:30 AM Friday, April 23rd – Sunday April 25th. Not the 30th as originally reported!


Homes for Our Troops will hold a three-day Build Brigade starting Friday April 23rd – Sunday April 25th to provide Army Sergeant Heath Calhoun with a specially adapted barrier free home. The Build Brigade will take place at 1890 Walter Road in Clarksville, TN
Homes for Our Troops Construction Manager Larry Archer along with General Contractor Jimmy Miller from Jimmy Miller Construction will raise the first wall at 8:30 AM on Friday April 23. Montgomery County  Mayor Caroline Bowers will welcome everyone at that time during the official ceremony.
SSG Heath Calhoun served in Iraq with the 101st Airborne Division. He was severely injured when a rocket-propelled grenade hit his Humvee on November 7, 2003, resulting in the amputation of both his legs above the knee.
«Read the rest of this article»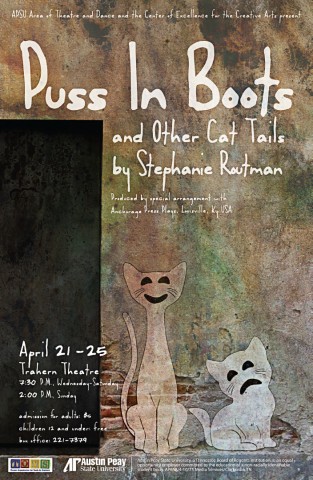 It is often hard for a parent with younger children to find wholesome entertainment to enjoy together as a family. However Austin Peay State University is doing their best to take care of that with a slate of Concerts, Art shows, and Dance & Theatre productions. Many of these events are free, or very low cost.
The APSU Department of Theatre and Dance along with the APSU Center of Excellence for the Creative Arts and the Theatre Organization for Youth by Students are currently staging a production of Puss in Boots and other Cat tales at the Trahern Theatre from April 21st-25th. Showtimes are 7:30 pm Wednesday-Saturday, and at 2:00 pm on Sunday.
This show is great for children of all ages. "Puss in Boots and Other Cat Tails" was written by Stephanie Routman, and is directed by Ricky Steven Young. It has an approximate runnning time of 50 minutes. Admission is free for children 12 and younger, and $5 for everyone else.
«Read the rest of this article»
The APSU Center of Excellence for the Creative Arts together with the Wilbur N. Daniels African American Cultural Center brought in the incredibly talented Poet Afaa Michael Weaver to do a reading at Austin Peay State University on Monday.
The reading was originally scheduled for February 1st 2010 to coincide with Black History month, but was snowed out. It was rescheduled it for the month of April, which luckily is National Poetry month.
Around 25 people gathered in room 303 in the Morgan University Center to hear Afaa Weaver read from his myriad of works. We were a mixed bunch, students, faculty, and the general public. The ages of the attendees ranged from young to the white haired crowd. But everyone had something in common, the love of Poetry and the desire to hear it spoken by the author who wrote it.
Hearing an author read their work  be it fiction, or poetry; is always a special occasion. The author paints a scene using his words in much the same way as a painter does with his brush, and the resulting imagery is just as vivid.
«Read the rest of this article»