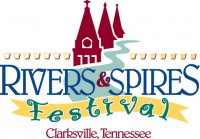 The 2010 Rivers & Spires Festival shattered previous attendance records, bringing over 42,000 people into downtown Clarksville. Festival organizers say 42,073 people participated in the 3-day event last week, breaking last year's attendance record of 35,475. This year was the eighth year for the free festival, and attendance has more than doubled since 2006.
«Read the rest of this article»
The 2-0 Clarksville Fox are off to a great start as they host the 1-1 Memphis Belles in the football stadium at Northwest High School (800 Lafayette Rd) this Saturday at 7:00 pm. The Fox plan on winning this game on their way to an undefeated season, and to return to the playoffs and the national championship this year. But the players need your support and to hear your cheers at every home game to make this happen!
Gates open up at 6:00 pm. Bring your family, friends, and BBQ out early and tailgate party.  The Fox Players, Coaches, Staff, and team mascot "Trixy" look forward to seeing you there.
Tickets are reduced this year to only $8.00 with children 5 and under are admitted FREE. The gates open at 6:00pm and there will be concessions for everyone, and women's semi-pro full contact football!

Due to severe storms forecast for Saturday, the following events have been canceled and rescheduled for a later date.
The Montgomery County Park openings
Both openings previously scheduled for tomorrow have rescheduled for May 1st.  St. Bethlehem Civitan Park Ballfield Complex is at 10:00am and Woodlawn Park Ballfield Complex is at 1:00pm.
The Mount Olive Cemetery clean up day
The Mount Olive Cemetery clean up day has been rescheduled for Saturday, May 8.
The Tennessee Titans closed out their thirteenth Titan's Caravan yesterday with a visit to the Fort Campbell Kentucky Army Base. The caravan made 5 stops on base, including the Fort Campbell High School Football team, visiting with wounded soldiers at the base hospital, a visit to the 160th SOAR (Nightstalkers), and a stop at the Fort Campbell PX. "We always save the best for last, and Fort Campbell is our final date" said Bob Hyde the Vice President of Community Relations for the Tennessee Titans.
«Read the rest of this article»