The AFS volunteers in our area are looking for great families of all kinds who are interested in hosting a high school exchange student for the 2010-2011 school year. AFS is a worldwide nonprofit organization that has been leading international high school exchange for more than 60 years with the mission of helping to build a more just and peaceful world. Most families who host with AFS have no idea how much this experience will change their lives!
«Read the rest of this article»
Update: On April 22, 2010, A representative from The Rogers Group admitted to an Oakland Hills resident that called on behalf of the Stop The Quarry movement the plot outlined in the satellite photo IS one of the two sites they are considering in the Todd County!
I was called from a neighbor a couple of days ago about a problem that might be arising that will affect all the homes off Exit 1 around the Trenton/Tylertown Roads.  She went to Kentucky yesterday to get a plat of where this Quarry will be built. It is shocking how close it is to our subdivisions on the North side of Interstate 24!
Below I have placed a copy of the plat, so you can see if it will affect your area.  We understand that this is being built right inside the KY line but they will be using Trenton and Tylertown Road to get to the Hemlock. Not to mention the blasts that will shake all of our homes!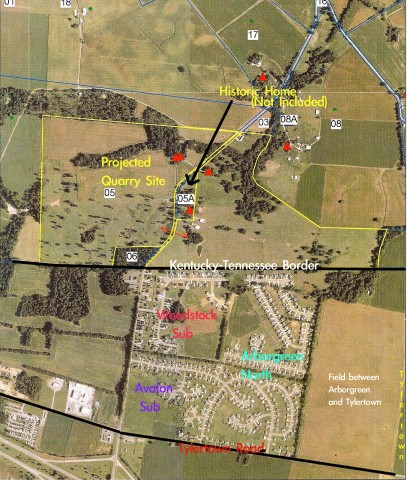 «Read the rest of this article»