The Clarksville Area Chamber of Commerce will hold their 3rd Annual Clarksville Warrior Week, May 1-8. The week-long celebration honors military men, women and their families and gives local residents and businesses a chance to show appreciation for their service and sacrifice.
The schedule is as follows: «Read the rest of this article»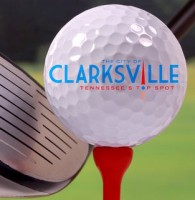 Jeff Vaughn the PGA professional for both of the city's golf courses wants to invite area golfers to come out and visit Mason Rudolph golf course this Saturday from 10:00 am – 3:00pm for a "Demo Day".
Factory representatives from Taylor Made, Calloway, and Cleveland golf will be on hand with all the new golf equipment for 2010. "If you're an avid golfer, you won't want to miss this event", said Vaughn. "Golfers will be able to try new golf clubs, and visit with representatives to discuss their game, and how to play their best golf". «Read the rest of this article»
The City of Clarksville has partnered with the Clarksville-Montgomery County School System to ensure the safety of children traveling to and from school. The City of Clarksville provided grant funds received from the Federal Highway Administration Program to develop a Safe Routes to School program.
The SRTS grants are used to help improve the safety of school walking routes, develop fun ways to encourage more children to use those routes, and recruit parents and neighbors to accompany children to school. The program will also look at ways to slow traffic down around schools and teach children health and traffic safety to include recognizing dangerous situations (aggressive animals, stalkers, reckless horseplay along busy streets, crossing at intersections, etc.)
These grants will allow 7 public schools in Clarksville to receive crosswalk improvements. Kick-off events are scheduled for the two schools that have been completed thus far. «Read the rest of this article»
Brett Ramsey will be at Billy Dunlop Park on Saturday, May 1st for a community meet and greet. He will be there from 1:00 pm – 2:00 pm or until the last person leaves. Please take this opportunity to come out and share your views with him.
Brett Ramsey grew up on a farm in Martin, TN. His family has always been politically active in government with his grandfather being former Tennessee governor Ned Ray McWherther, and his cousin being current Congressman John Tanner.
Brent attended Rhodes College in Memphis Tennessee, and graduated in 2003. He currently teaches in the Political Science Department at Austin Peay State University. He is married to Jessica Ramsey. Together they have made Clarksville, TN their home for over 3 years.
Brett has had experiences working at both the Congressional and state legislative level. He is running for the 68th district in the Tennessee House of Representatives. «Read the rest of this article»