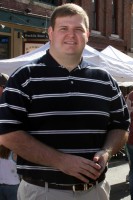 Brett Ramsey will be at Billy Dunlop Park on Saturday, May 1st for a community meet and greet. He will be there from 1:00 pm – 2:00 pm or until the last person leaves. Please take this opportunity to come out and share your views with him.
Brett Ramsey grew up on a farm in Martin, TN. His family has always been politically active in government with his grandfather being former Tennessee governor Ned Ray McWherther, and his cousin being current Congressman John Tanner.
Brent attended Rhodes College in Memphis Tennessee, and graduated in 2003. He currently teaches in the Political Science Department at Austin Peay State University. He is married to Jessica Ramsey. Together they have made Clarksville, TN their home for over 3 years.
Brett has had experiences working at both the Congressional and state legislative level. He is running for the 68th district in the Tennessee House of Representatives.
This message was authorized by Friends of Brett Ramsey; Jessica Ramsey, Treasurer.
Editor's note: This is a news release from a political campaign,  and our publication does not constitute an endorsement or political advertisement for the campaign.  Any candidate for public office is welcome to submit campaign releases to . These are published as our schedule allows.