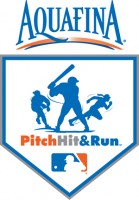 The annual local Pitch, Hit, and Run Competition was held April 17th at Heritage Park Softball Fields. This is the official skills competition of Major League Baseball and is comprised of 3 parts: The "Pitch" contest allowed youth to attempt to throw strikes like MLB pitchers by pitching to hit the MLB Strike Zone. The "Hit" contest was a chance for competitors to take a swing from home plate and be judged on distance and accuracy just like in MLB. After pitching and hitting, came the "Run" portion of the competition. Competitors started at 2nd base and tested their speed running into home plate.
Results for the local competition were as follows: The winner in the 9-10-year-old division for both the Pitch and Run portion was Sydney Fisher. The winner of the Run portion was Jackson Carter. The All-Around Champion in the 9-10 year old division was Sydney Carter.
The winner in the 11-12-year-old division for the Pitch portion of the competition was Jimmy Shaffer. D'Andre Allen finished first in both the Hit and Run portions of the event as well as taking home the title of All-Around Champion for the 11-12 year old division.
The All-Around Champions will advance to a Sectional Competition, then to Team Championships at Sun Life Stadium on Saturday, May 29, 2010 and the National Finals at the 2010 All Star Game at Angel Stadium in Anaheim.
Congratulations to our young athletes and best of luck to those who will travel to the state competition next month!
For more details on the Pitch, Hit, and Run results, please contact the Clarksville Parks and Recreation at 931-645-7476 or visit www.cityofclarksville.com.
Sections
Arts and Leisure
Topics
Angel Stadium, Clarksville Department of Parks and Recreation, D'Andre Allen, Jackson Carter, Jimmy Shaffer, Major League Baseball, Pitch Hit and Run, Sun Life Stadium, Sydney Fisher