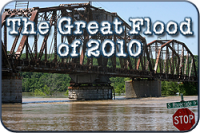 On Saturday after several days of very heavy rains the Cumberland River and Red River began to rise. The resulting flood easily bypassed the 100 year flood mark prompting Governor Phil Bredesen to request that Western and Middle Tennessee be declared a disaster area freeing up Federal monies to help with the post-flood cleanup and reconstruction. Clarksville Mayor Johnny Piper also issued his own request for a disaster declaration. The final tally of this flood is expected to run in the multi-billion dollar range, with millions of dollars worth of damage right here in Clarksville, Tennessee.
Early on Sunday prudent business owners including Bill Roberts, Thunder Road Automotive & Marine; Mike O'Malley, Wendy's; and Elke Melton, Relocation Reality; among others were getting ready!
Bill Roberts had already removed most of his boats when we arrived and his employees were hard at work getting the last items from his marine store loaded into a tractor trailer. Across the Street at the car lot, plans were already in place to relocate the vehicles to another location.
Over the next couple of days, I ran into Bill Roberts in the area multiple times as he and I surveyed the water level in the area of his business. He had hoped that the water level would stop short of his office building, however that sadly was not the case. The River water rose to the point that there were several inches of water on the floor of his office.
Today, both he and a cleaning crew were camped nearby waiting for the water level to exit the building. When it did they would immediately start the cleanup operation. They even had a battery operated shop vac that they would use to remove the water from the carpeting.
At Wendy's Mike O'Malley had his employees hard at work removing all the perishable items out of the store to be taken to other area Wendy's Restaurants. They also removed the furniture, leaving only items too big to be easily moved.
Down the road at Relocation Reality, real estate agent Elke Melton was busy clearing out her office; removing computers and electronics, along with all of her important files. Everything else she stacked high up on tables and desks in order to get it off the floor, and hopefully out of the reach of the coming flood waters.
Other business owners sandbagged their entrances hoping that this would save them from water damage. Only time will tell if this tactic was successful or not.
Less prudent business owners assumed that the flood waters would not reach their businesses and continued operations until the last minute, however most were disappointed as this flood exceeded all expectations.
The City of Clarksville is making plans for a volunteer corps to assist with flood cleanup,  more information on that will be coming soon.