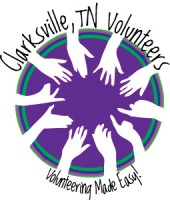 As Clarksville begins to recover and clean-up from the recent flooding, you can post your volunteer needs on the Hands on Clarksville site.
Hands On Clarksville is dedicated to making it easy for community organizations and those working to provide Flood Recovery assistance to access volunteer support. A one-stop resource for volunteering in Clarksville- Montgomery County. Click below to view a list of organized flood cleanup around middle Tennessee.
For more information see: http://www.hon.org/AboutUs/index.php/disaster/FloodVolOps.html.
Residents Must Anticipate, Prepare For Encounters

People affected by the floods should take precautions not only from contaminated water but also with unfamiliar and wild animals as they return to homes to begin the clean-up process. Pets left behind during emergency evacuations and wild animals forced from their natural habitats could pose a risk of injury. Adults and children should not touch, attempt to feed or handle any wild or unfamiliar domestic animals, especially those that appear to be sick or injured. People should also stay away from dead animals.
"Normally docile pets can be disoriented or act aggressively," said Tennessee's Health Commissioner Susan R. Cooper, MSN, RN. "To protect family members, friends and neighbors as well as your animals, leash your pets or keep them in a secure area to minimize contact with wild and other animals that might be loose." «Read the rest of this article»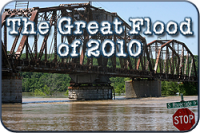 A robber attempted to break in through the front door of the Riverside Pro Archery store late last night. The robber failed, but it would not have mattered anyway, since everything had already been removed by the owner.
It is sad that others would try to take advantage of this disaster. Business owners and residents should be aware that as flood waters recede, there will be more robbery and looting attempts. If any activity is seen, please call the Clarksville Police Department at (931) 645-7480. «Read the rest of this article»
The Cunningham bridge (Zinc plant road) was open to traffic yesterday. From the bridge,  you get a view of the flooding of Clarksville, the Riverside drive area as well as the marina.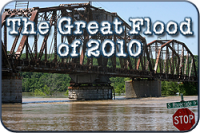 Riverside / North Second Napa store is open for business. The owner and employees are thankful that the water fell short of the store.
The flood waters got within an inch of coming over the sidewalk and into the business.

Austin Peay State University will unveil a new commencement tradition beginning with the two spring ceremonies Friday, May 7th.
A selected student from each college will lead the class into the Dunn Center carrying a gonfalon, a banner specially designed for the college.
"We are excited about the new dimension this will add to commencement and pleased that the colleges will have an opportunity to honor one of their outstanding students as the college marshal," said Carol Clark, executive aide to the president and one of the organizers of the commencement ceremony. «Read the rest of this article»
Public Health Officials Urge Residents to Avoid Flood Water Whenever Possible

When floods occur, affected residents run the risk of contracting waterborne illnesses caused by bacteria, viruses, chemicals or toxins found in the water. People can be exposed by ingesting, breathing in, or simply contacting contaminated water. Additionally, walking, wading or even playing in flood waters might pose a potential hazard of drowning. Avoiding flood waters whenever possible is the best strategy to prevent illness and injury.
"Waterborne illnesses and flood related injuries pose a serious risk to residents affected by this natural disaster," said State Health Commissioner Susan R. Cooper, MSN, RN. "Parents should take extra precaution by keeping children and teens out of potentially contaminated flood waters. While it might not be obvious, currents can be strong and pose an immediate potential for drowning. Protect your loved ones and keep them safe by staying away from flood water." «Read the rest of this article»

The City of Clarksville would like to request any homeowner/business owner located in the City that has been affected by flood waters to contact the Building and Codes Department to schedule your inspection at (931) 645-7426 for the following:

RESIDENTIAL INSPECTIONS: We will begin residential assessment inspections of all affected basements/garages, and living areas on Wednesday, May 5, 2010 from 12:00 Noon to 6:00 pm., and Thursday, May 6th, 2010 through Saturday, May 8, 2010, 8:00 am – 5:00 pm.

COMMERCIAL INSPECTIONS: We will begin commercial assessment inspections on Friday, May 7th, 2010 and Saturday, May 8, 2010, 8:00 am – 5:00 pm and Monday, May 10, 2010, 8:00 am – 5:00 pm.
Owner and/or occupant must be on-site at the time of scheduled appointment to meet with the inspector(s). Inspector(s) will provide proper City I.D./credentials.
We will continue assessment inspections after the aforementioned dates on an as needed basis.

Clarksville Mayor Johnny Piper will hold a special meeting Wednesday, May 5th at 4:00 pm in the Council Chambers at 106 Public Square with the business owners of Riverside Drive to address their questions and needs.
This will be the first of many meetings to be held in the near future to address the concerns of all business owners, homeowners, and property owners throughout the City of Clarksville.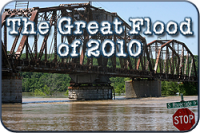 With the high water in Clarksville Tennessee,  some thrill seekers saw it as an opportunity to engage in a little daredevilry. This included driving through high water, wading in flood waters, going out on the RJ Corman Railroad bridge, and boating on the swiftly moving river.
Consider these all examples of things that you don't want to do!
«Read the rest of this article»