Last updated: 2:00 pm May 15th 2010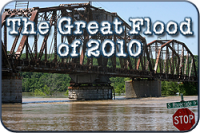 A listing of the information that is available relating to the roads, schools, and other essential services which may be affected by the flooding. You can help us be as accurate as possible by emailing us at with any necessary additions, modifications, and/or corrections to this list. We appreciate all of your help!
Montgomery County Road Openings and Closings
All roads OPEN.
School Systems
Clarksville-Montgomery County Schools will be back in session on Monday, May 10th.
Buses will be running on all routes. For students whose homes may have been affected by flooding, they are encouraged to go to the bus stop most convenient to them. Because bus drivers will be picking up students at numerous locations, be aware that there may be some delays at pick up and drop off times throughout the week.
Clarksville Street Openings and Closings
All roads OPEN 
Clarksville Parks and Recreation
With schools being out, our three community centers will be open from 10:00 am to 7:00 pm.
The following parks are still closed until further notice:

McGregor Park
Valleybrook Park
Billy Dunlop Park
Trice Landing
Airport Park
Sherwood Forrest Park
Coy Lacy Park
Portions of the Greenway are closed.
Heritage Park will remain closed until Monday, May 10th.
At this time, the following events that were scheduled for Saturday,  May 8th have been cancelled: Movies in the Park, Downtown Market and the Warrior Week Picnic.  Both Movies in the Park and the Downtown Market will be rescheduled.  At this time there are no plans to reschedule the Warrior Week Picnic.
For complete details about event cancellations, please visit us online at www.cityofclarksville.com/parks&rec/ or call 931-645-7476.