First Clarksville Police Officer killed in the line of Duty by gunfire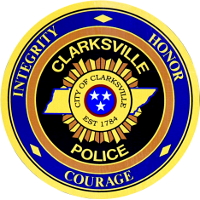 On the morning of February 13th, 1974, FBI Agent Frank Christian came to the police station  to report seeing a black male carrying a shotgun walking south on 2nd Street.  Officers Kenneth Browning and Joe Mixon left headquarters to locate the individual. Joe Mixon had been with the Department about a year and Browning had left the Dickson Police Department with 3-4 years of service and had only been with the Clarksville Police Department a few months.
They approached 2nd Street in the area of the US Post Office when they saw the black male, later identified as Howard Gentry, 42 standing at the intersection of Madison and 3rd Street.  Gentry had been described as a loner and his mother had sought help for his deteriorating mental state of mind.
Turning on the patrol car's blue lights, they stopped about ten feet from him. Officer Browning exited from behind the wheel and ordered Gentry to "freeze". Gentry then pivoted around, pointing the shotgun at Browning and told him to get back in the vehicle. Officer Browning barely managed to do so when Gentry fired four rounds into the car, taking out the back window and striking Officer Mixon in the right hand and shoulder and Officer Browning in the abdomen.
Officer Browning attempted to drive forward but was unable to do so. He opened his car door and fell to the pavement. Officer Mixon radioed for help and an ambulance. By then, Gentry had opened fire on others, hitting two city firemen as they ran for cover, as well as a man exiting the Royal York Hotel. In addition to the shotgun, Gentry also had a revolver which he fired at a woman as she tried to exit the post office parking lot. Witnesses saw him reload both weapons.
At this point, Officers Wade Harris, Billy Poor, and Larry Thrower arrived at the scene and a gun battle ensued, in which Officer Harris was shot in the leg.  More gunfire ensured until  it was believed that Gentry was no longer a lethal threat.  Officer Thrower maneuvered until he came upon Gentry and removed the shotgun from his hands.  Gentry was later pronounced dead at Memorial Hospital.
Officer Kenneth Browning, 38 years of age, died on Valentine's Day, February 14th, 1974, twenty-eight hours after receiving massive abdominal injuries from his wounds. He left behind a wife and step-children.
It was a tragedy that stunned Clarksville and devastated the Police Department.