Edgar (Ed) R. Groves was presented the 2010 Chancellor's Award of Excellence in Philanthropy during the annual Scholarship Donor Appreciation Dinner at Austin Peay State University, held Tuesday, April 27th.
David Gregory, vice chancellor of administration and facilities development, presented the award on behalf of Chancellor Charles Manning and the Tennessee Board of Regents (TBR).
APSU President Tim Hall, who nominated Groves for the award, said, "The criteria for the Chancellor's Award describes Edgar R. Groves perfectly. The relationship between Mr. Groves and Austin Peay State University can perhaps best be described as a mutual admiration society. Austin Peay has indeed benefitted from the generosity of Mr. Groves' time and resources. Mr. Groves credits Austin Peay State University to providing better opportunities for his children and the region we serve."
The award, presented by The Tennessee Board of Regents each year to individuals, companies or organizations, is based on the generous giving of resources to a TBR institution and outstanding volunteer efforts in raising money for the institution.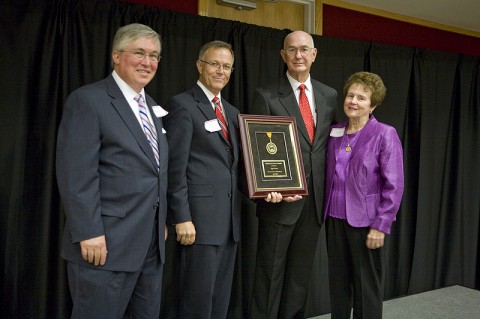 A lifelong resident of Montgomery County, Groves has supported Austin Peay State University and the Clarksville/Montgomery County community for many years in numerous capacities. He has served on the Austin Peay State University Foundation Board, president of the Governors Club, Capital Campaign Steering Committee and the Tower Club.
In 1978-79, Groves served as president of United Way for Clarksville-Montgomery County. During that time, Groves was instrumental in establishing a dialysis center in Clarksville. Groves served as president of the Cumberland Dialysis Center until it was sold and later, along with his partners, gave more than $1 million to establish an endowed nursing scholarship at APSU.