In honor of their "Hometown Heroes" the Montgomery Care and Rehabilitation Center presented their Hall of Fame Cafe to a standing room only crowd on May 13th 2010 at their facility on Old Farmers Road.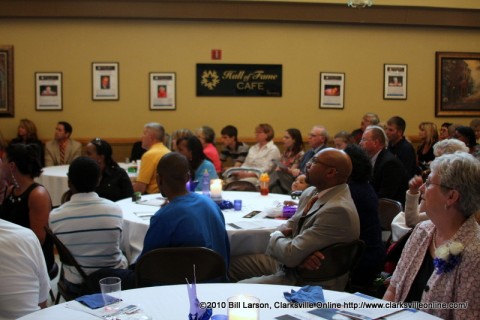 The event recognizes the accomplishments of the long term care facilility residents, employees, and Community leaders.
For 2010 the Community leader recognized was Ann Slate-Harrison, the wife of former Clarksville City Council member Wayne Harrison. She was recognized for her contrubitions as a volunteer for at the Montgomery Care and Rehabilititation Center. Also recognized were Employee Dorothy Shaw; and residents Laura Patterson, William Adkins (Deceased), & Bernice Morris.
Ann Slate-Harrison
Honored for Community involvement and Volunteerism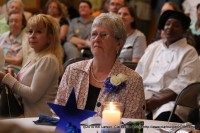 Ann Slate-Harrison was born in Montgomery County, Clarksville Tennessee in 1942 to Louella Rose and Paschal Slate.
She attended St. Bethlehem Elementary School and then Clarksville High School. She began her life long love of music by playing in the CHS marching band. She was a team member of the CHS girls softball team and graduated in 1963. She attended college classes at APSU where she studied the New Testament.
Ann was also a founding member of Parkview Baptist church in 1965.
After graduation, Ann trained to be an insurance agent and started building her own business in 1965. In 1981, Ann became the office manager for St. Bethlehem Auto Sales, where she is now currently employed.
She soon married and had six children.
In 1991, Ann began faithfully volunteering her time at MCRC. She provides piano music and assists Pastor Bobby Kail with a weekly service providing spiritual nurturing to residents. Ann and Pastor Kail have also provided monthly services to the residents of South Central Village since 1991.
In 1994, Ann decided to add to her family by becoming the primary care giver for her special needs cousin after the death of his parents.
Ann is a member and teacher at First Baptist Church of St. Bethlehem. Ann is currently married to Wayne Harrison, former Clarksville City Council Member. They reside in St. Bethlehem and enjoy their 19 grandchildren.
Dorothy Lyle Shaw
Honored for Professional Accomplishments
Dorothy Lyle Shaw was born June 9th, 1945 in Clarksville Tennessee. She is the 10th of 11 children born to Nathan and Inez Lyle. She attended Roundtond Elementary School in Montgomery County. She graduated from Burt High School in Clarksville, Tennessee. She has been a member of Mt. Zion Baptist Church for as long as she can remember.
Dorothy served 3 years in the Army. She was at Ft. McClellan, Alabama and Ft. Richey, Maryland as a telephone operator.
She worked at Jay Garment Company where they made one piece men's coveralls. Dorothy began working for Service America in 1990, which contracted with Montgomery County Nursing Home in 1991. Montgomery County Nursing Home became Montgomery Care and Rehab in 2005. Dorothy has never missed a day of work since starting. She is always at work regardless of the circumstance.
Dorothy has two daughters, Tina and Angela, and five grandsons. Her interests are flowers, children and people.
William Adkins (Deceased)
Honored for Distinguished Military Service
William Adkins was born in Akron, Ohio on June 19th, 1926. Lt. Col. Adkins received a Bachelor of Science degree from Mount Union College in 1950 and went on to receive his Masters Degree in Hospital Administration in 1962 from Washington University in St. Louis.
Lt. Col. Adkins was a World War II Veteran. He retired from the United State Air Force after 26 years of service to our country. He served from 1944 to 1971. He was Chief of Staff for Financial Management at Wright Patterson Air Force Base in Dayton, Ohio. He was also the Assistant Administrator at the Providence Hospital in Holyoke, Maryland.
His favorite pastimes were reading books and airplane magazines and watching movies. He also enjoyed music and especially enjoyed listening to the Nashville Symphony. He was also involved in the Madison Street United Methodist Church as a choir member.
Lt. Col Adkins had a personal accomplishment that made him very proud, in that he earned his private pilot license. However, those that he was most proud of were his children and grandchildren.
Bernice Morris
Honored for Professional Accomplishments
Bernice Katherine Morris was born April 30th, 1930 in Todd County, Kentucky. She has three sisters and a brother who live in Kentucky and one sister who lives in California.
As the second eldest daughter of a paraplegic, Bernice grew up working along side her father in the many businesses he owned. As a young girl, she worked in a clothing factory in Elkton, Kentucky and supported the WWII home front by working in an airplane factory in Evansville, Indiana.
Bernice was married to George Smith Morris, a decorated WWII hero, for almost 60 years, living in Kentucky, Ohio and Tennessee. Bernice and George had many hobbies together. They were avid gardeners focusing on flowers and vegetables. They also had a Beanie Babies collection, which exceeded 1,000.
Bernice worked as a nurse at Jennie Stuart, Western State and TB Nursing Home in Hopkinsville, as well as, Lucas County Nursing Home and Toledo State Hospital in Ohio. She owned and operated a daycare center long before it was a popular concept, serving hot breakfasts to the children. Bernice graduated from Patricia Stevens Finishing School as an Interior Decorator. She was the first professional Interior Decorator in Hopkinsville, widely recognized for her many matching hats and matching heels – quite the fashion model she was!
Family is the most important part of her life. Bernice is "Mama" to two daughters and "Grandma" to one granddaughter, two grandsons, three great-granddaughters and one great-grandson. She is never too tired for her grandchildren and great-grandchildren. Today, she continues to bring joy to everyone who knows her and is truly the light of her family.
Laura Paterson
Honored for Community Involvment
Laura Paterson was born June 18th, 1917 in Brooklyn, New York. She is one of 10 children, nine girls and one boy. She is the oldest of the three surviving sisters. She grew up in Brooklyn and parts of New Jersey.
She went to high school in Brooklyn and then joined the workforce.
Laura was a member of the 4th Avenue Methodist Church in Brooklyn. She met and married John Paterson while attending this church. They were wed on June 28, 1947. Two children were born to this union, Phyllis in 1948 and Robert was born in 1951, but passed away in 1958. Laura and John had two grandchildren, Debbie and Joey.
They moved to Clarksville, Tennessee in 1976 after retirement.
In the early 1980's, Laura and John began making and selling crafts. Laura made dolls, etc. and John made wooden toys. They continued to do this into the early 90's when Laura began having problems with her eyesight. John became her eyes.
Laura was active in the Hilldale United Methodist Church where she was part of the Home demonstration club.
She came to be a part of the Montgomery Care and Rehab family in 2008.
Photo Gallery
About the Montgomery Care and Rehabilitation Center
Montgomery Care and Rehabilitation Center is located in Clarksville, Tennessee, in the heart of Montgomery County, approximately 40 miles northwest of Nashville. This 120-bed facility provides skilled services such as post-surgical care, IV therapy, wound care, pain management, tracheostomy care, and diabetes management. Speech, occupational, and physical therapy are offered 6 days a week, and ongoing restorative therapy helps residents maintain their highest level of mobility and independence. A strong supporter of home and community-based services, Montgomery Care and Rehab provides home delivered meals, inpatient respite care, and other such services that enable and promote independent living.
Montgomery Care and Rehabilitation Center
LP Clarksville, LLC
198 Old Farmers Road
Clarksville, TN 37043
Phone: 931.358.2900 Fax: 931.358.2104