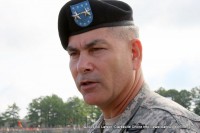 To the Fort Campbell community and surrounding areas-
I want to take a brief opportunity to say thank you to our wonderful neighbors from Clarksville, Hopkinsville, Oak Grove and surrounding communities for the continuous love and support you provide to our Soldiers and Families here on Fort Campbell. As we case the 101st Airborne Division colors today (May 19th) and deploy on our next "Rendezvous with Destiny" in Afghanistan, it is comforting for me to know our Families will have strong supportive communities to embrace them over the next several months. We cannot thank you enough for the care your businesses, churches, schools, community services and residents provide for our Soldiers and Families not just now, but throughout the years.
I also want to thank the community leaders who are flying 101st Airborne Division flags as a sign of support for our Soldiers and Families during the deployment. It provides a visual reminder of the support you already provide to the Fort Campbell Family and it means a lot to each of us.
On Wednesday May 19th, I recognized nine of your residents as the inaugural "class" of the Champions of Fort Campbell. This is a new award which I will present annually to recognize specific individuals whose contributions of time, resources, love and support make Fort Campbell one of the most desirable assignments in our Army. Tonight's recipients are Col. (Ret.) Ted Crozier, T.C. and Col. (Ret.) Bob Freeman, Ms. Anna Caryl Guffey, brothers Bill and Phil Harpel, Mr. Chuck Henderson, Mr. Ben Kimbrough and Mr. Jack Turner. Their photographs will be permanently displayed in the post headquarters for all to see for years to come. I know there are several others out there who certainly qualify for the award and I look forward to seeing your nominations for the Champions "class" of 2011.
Thank you again for all that you do – we are forever grateful for your love and support.
AIR ASSAULT!
Sincerely,
John F. Campbell
Commanding General
101st Airborne Division and Fort Campbell
Editor's Note: The letter was edited by Clarksville Online to update date tense. Paragraph 3 originally began:   I look forward to personally recognizing nine of your residents tonight as the inaugural…