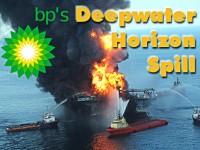 Excusing British Petroleum for a gulf oil spill by saying "sometimes accidents happen" is like a kid blaming gravity for the broken jar of pickles he dropped to the floor.
Kentucky Republicans last week nominated a US Senate candidate who wants to dismiss BP's responsibility in the Gulf oil disaster as an accident. He was critical of Interior Secretary Ken Salazar's comment that the government's job was to keep "the boot on the neck of British Petroleum."
I also take issue with the placement of the boot of government against BP. I strongly believe the boot should be repeatedly, swiftly and forcefully applied to another part of the anatomy – specifically with the intent of inflicting harm.




BP is a large corporation with significant power and wealth in the United States. With that power and wealth comes responsibility. BP took a risk (with government approval, unfortunately) by poking holes in the ocean floor to suck oil out. They hoped against all reasonable odds that nothing would go wrong. It did. It is their fault.
BP has the responsibility to stop the gush of oil that still continues unabated a month later. They have a responsibility to clean up the damage that is covering the entire Gulf region.
Unfortunately, they will never be able to repair the damage to the ecosystem of the Gulf even if they actually do man up and accept responsibility.
American greed, corporate irresponsibility and political stupidity are going to kill us yet.