Celebration of Unity Day presents Dr Bobby Jones with a Lifetime Achievement Award
On Saturday June 5th at 6:30pm,  we will celebrate Unity Day at Faith Outreach Church with guest honoree Ambassador Dr. Bobby Jones.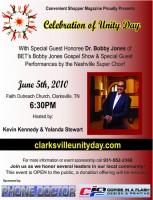 Dr. Jones is currently has the longest running TV show on cable TV for more than three decades…'The Bobby Jones Gospel Show.' We will also celebrate and recognize Clarksville's diverse leadership by honoring several local pastors and non-profit organizations in our community.
The purpose of Unity Day is to unite our Clarksville community and celebrate the accomplishments of our diverse leadership. We also will pay tribute and recognize our non-profit organizations. The event promotes unity among family as well as peace among people of all walks of life. Unity Day is created with a focus on family values and multiculturalism. «Read the rest of this article»


A video produced by a handful of Austin Peay State University sports broadcasting students for Lady Governors basketball has been nominated for a 2010 College Sports Media Award.
The College Sports Media Awards (CSMA) is a competition recognizing excellence in video production at all levels of college sports and is sponsored the National Association of Collegiate Directors of Athletics (NACDA) and the Sports Video Group (SVG). Out of more than 130 entries in three categories, the nominees represent outstanding college sports video productions from campuses across the country as well as commercial college sports videos produced by major television networks and advertising agencies. «Read the rest of this article»
EAGAN, MN — Nearly two-thirds of Americans cannot name any members of the U.S. Supreme Court, according to a new national survey by FindLaw.com (http://www.findlaw.com/), the most popular legal information website. Even as Supreme Court nominee Elena Kagan awaits Senate confirmation hearings to replace retiring justice John Paul Stevens, only 35 percent of Americans can name even one member of the nation's highest court.
Clarence Thomas is the most well known justice but could be named by only 19 percent of Americans. Chief Justice John Roberts was named by 16 percent of people. Sonia Sotomayor, the newest justice, could be named by only 15 percent of Americans following a highly visible nomination and confirmation process last year.
«Read the rest of this article»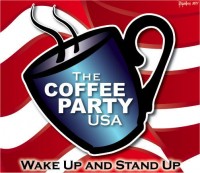 The Coffee Party of Clarksville, TN will host a "Coffee with Candidates Forum"
These series of forums will give the public the opportunity to hear the candidates' views on some of the very important issues that are affecting our community.
The "Coffee with Candidates Forums" will take place on June 12th & 19th at the Getsome Coffee Shop – 3862 Trenton Road, (near the Great Escape Movie Theather) Clarksville, TN from 12:00 noon – 2:00pm. «Read the rest of this article»
Preliminary Figures Show Decline in Fatal Crashes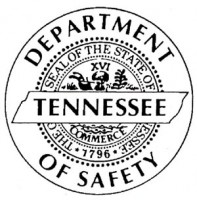 Nashville, TN — Preliminary figures from the Tennessee Department of Safety show seven people were killed in traffic crashes on Tennessee roadways during the 78-hour Memorial Day holiday period.  This would be a drop from the 16 fatalities that occurred during the 2009 Memorial Day holiday weekend and 13 deaths in 2008.
During the 2010 Memorial Day holiday, which ran from 6:00pm, Friday, May 28th through midnight Monday, May 31st, there were seven fatal crashes that resulted in seven fatalities.  Six of the people killed were vehicle occupants and three, or half of them, were not wearing safety restraints.  One pedestrian was also killed.
«Read the rest of this article»
What would cause a close knit community of friends and farmers to pull their curtains tight and lock their doors at sunset? What could turn brother against brother in an act of hatred and deceit?  It all goes back to a single tobacco leaf that caused a fiery uproar that affected everyone in town and spanned state lines. It is said that the details surrounding this event have been so hidden and suppressed through the years that family Patriarch's have had to die before this story could be told. Starting this weekend, David Alford is telling that story in the form of a drama based musical called SMOKE: A Ballad of the Night Riders.
David Alford, writer and director of the well known play SPIRIT: The Authentic story of the Bell Witch is bringing to the stage in Adams, TN SMOKE:A Ballad of the Night Riders, as well as writing the lyrics to this musicals original score. «Read the rest of this article»
Costco on top while Walmart, Kmart score lower than most chains


YONKERS, NY — More than 30,000 shoppers found Costco to be top notch among 11 of America's most popular chain stores, according a recent survey by Consumer Reports.
Fifty percent of readers who shopped at Costco rated the value as Excellent; for all the stores in Consumer Reports survey as a whole, that figure was 30 percent. Walmart and Kmart scored notably lower than the other chains, but Costco stood tall. In addition to citing the warehouse club's rock-bottom prices, survey respondents praised its bang for the buck: It was the only store judged much better than average for value. For more information on which stores are the best to shop visit www.ConsumerReports.org.
«Read the rest of this article»
Around noon yesterday Clarksville Fire Rescue (CFD) responded to a reports of an structure fire at the Kentucky Fried Chicken location at 1879 Madison Street. The problem is reported to have involved the businesses water heater.
The fire was extinguished before CFD personnel arrived on scene. However, as a precaution restaurant management closed the location until it can be inspected by an electrician.