WASHINGTON, DC – U.S. Rep. John Tanner praised the enactment of a new law to give Tennesseans more options in TV channel lineups. S.3333, the "Satellite Television Extension and Localism Act of 2010," also known as "SHVERA," was signed into law recently. The law contains amendments that help further two of Congressman John Tanner's priorities that impact Tennesseans' channel lineup options.
"This new law gives 8th District families more access to local programming that originates from our state and best serves our communities," Congressman Tanner said. "We have been fighting hard to make these improvements and will continue working to ensure local programming is available."
SHVERA, passed by the full House on May 12th, renews laws surrounding retransmission of broadcast content by satellite companies. A key provision was modeled after legislation cosponsored by Congressman Tanner that would expand access of local channels by satellite in all U.S. Designated Market Areas (DMA).
Congressman Tanner has long advocated for consumers to have more access to news, information, and recreational programming that originates locally from within the state. In the past, Congressman Tanner has cosponsored several bills to enhance customer access to local programming, and he has also discussed with the Federal Communications Commission the difficulties that Tennessee families have experienced in receiving over-the-air digital TV signals.
Local Channel Availability on Satellite
Many families live in areas without service by cable companies but from satellite TV providers that do not provide local programming. These families are often denied local news, information, and athletic programming about their communities.
Congressman Tanner cosponsored legislation that would mandate same local-in-local service by satellite carriers that cable operators are required to provide, and a significant portion of this legislation was included in SHVERA. Specifically, SHVERA accelerates the process for requiring satellite companies to provide this local television coverage to customers, including the granting of waivers and requiring a "qualified" satellite carrier to continue providing local-in-local service or face fines for noncompliance. In addition, SHVERA requires the FCC to conduct a study on incentives and capacity for providing nationwide local-in-local satellite coverage.
"The lack of local-in-local coverage is of particular concern to many rural households in the 8th District," Tanner said. "Now, with this new law, more local channel options will be available to Tennesseans."
For example, as a result of SHVERA, DISH Network has announced it now offers local programming via satellite to approximately 70,000 households located in the Jackson media market."
DMA Reform
Congressman Tanner has consistently drawn attention to how counties located on our state's border – especially Lake, Obion, and Weakley counties in Northwest Tennessee – have limited access to in-state news, weather, and athletic programming because they are geographically included in a DMA based in other states. This structure, because of outdated policies, means many people cannot receive local channels from their state.
"Tennesseans who pay taxes in Tennessee should be allowed to watch news, weather, and sports programming from Tennessee," Tanner said. "It's that simple."
Enactment of the new SHVERA law requires the FCC to issue a report on how many households receive local broadcasts originating from out-of-state and whether the DMA structure can be adjusted to provide consumers with more in-state programming.
"The acknowledgement of the in-state-coverage disservice is a major first step," Tanner said. "We hope the FCC will closely re-examine limitations in the current DMA structure."
About Congressman John Tanner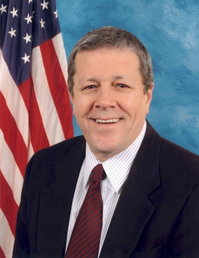 John Tanner represents the 8th Congressional District in West and Middle Tennessee. Co-founder of the fiscally conservative Blue Dog Democrats, Tanner serves on the Ways and Means Committee, where he chairs the Trade Subcommittee, and on the Foreign Affairs Committee. A veteran of the U.S. Navy and the Tennessee Army National Guard, Tanner chairs the U.S. delegation to the NATO Parliamentary Assembly and is serving as NATO PA President.
Sections
Politics
Topics
8th Congressional District, FCC, John Tanner