Written by U.S. Army Sgt. 1st Class Kerensa Hardy, Combined Joint Task Force-101 Public Affairs  
Bagram Airfield, Afghanistan – As the Army marked its 235th birthday, the 101st Airborne Division (Air Assault) took command of Regional Command-East during a ceremony on Bagram Airfield's flight line June 14th.
With a C-17 Globemaster III waiting to transport the outgoing command, the 82nd Airborne Division passed the mantle of leadership to the 101st Abn. Div., now Combined Joint Task Force-101.
It was a little more than a year ago when the All American division took the reins from the Screaming Eagles in what has seemingly become a tradition between the two headquarters.
"Thanks to the partnership we have built with the Afghan National Security Forces and government officials throughout the RC-East provinces, as well as the campaign continuity the 82nd Airborne and 101st Airborne Divisions have built over the four years we have preceded and succeeded each other in this mission, this ceremony has become a formality," said U.S. Army Maj. Gen. Curtis M. Scaparrotti, 82nd Abn. Div. and Combined Joint Task Force-82 commander.
The outgoing commander chronicled myriad accomplishments and expressed confidence in the capability and capacity of the Afghan partners.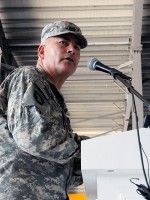 "The true authority for the peace and prosperity of Afghanistan rests in the ANSF, the Afghan government and the people themselves," Scaparrotti said. "And their presence and commitment is enduring."
"It's truly an honor to be here today to reflect on the incredible accomplishments and sacrifices of the Soldiers and civilians of CJTF-82 and to assume responsibility of Regional Command-East," said U.S. Army Maj. Gen. John F. Campbell, 101st Abn. Div. and CJTF-101 commander.
Referring to the storied history both divisions share, Campbell said what was true nearly 70 years ago at Camp Claiborne, La., when the 101st and 82nd stood together to form the first two airborne divisions and 65 years ago at Normandy is still true today. "We are a band of brothers and sisters who have fought and bled together, across generations, in defense of our nation and the universal principles of freedom, justice and peace," Campbell said.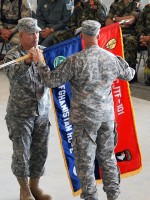 He said the coming year is vital to Afghanistan's future, and CJTF-101 will build on past accomplishments to further combined and unified action to help facilitate enduring Afghan solutions to Afghanistan's challenges by, with and through its Afghan partners.
"Our success is measured by our partner's success," Campbell added. "And their success isn't measured by the number of projects or missions we conduct, but by the faith and confidence the Afghan people entrust in them."
After what marked the third transfer of authority between the two divisions, CJTF-101 began its newest rendezvous with destiny by assuming control of 14 provinces in eastern Afghanistan.