Pools Now Open- NEW Swim Classes Available. The first session of swim classes began, June 14th. 
This year we are offering Senior Splash which consists of a 45 minute workout for those ages 50 and up.  This class combines gentle, yet effective aerobic exercises to help tone and strengthen muscles.  Basic Water Aerobics is also available for anyone ages 18 and up.  This 45 minute class is aimed at improving tone, strength and mobility.
Get your child accustomed to the water at an early age with our Mommy/Daddy and Me class.  Recommended for children 6-36 months.
Downtown Market
Come down to Public Square this Saturday from 8:00am to 1:00pm for the Clarksville Downtown Market.  The market will feature fresh, locally grown produce, nursery stock, handmade craft items, and other seasonal commodities.  You can also find baked goods, home décor, seasonal flowers and more!
Movies in the Park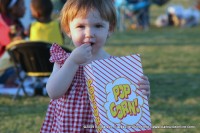 Join us for the our next viewing of Movies in the Park, Saturday June 26th at Heritage Park Soccer fields for the viewing of The Blind Side, rated PG-13.  Come early to save your spot and enjoy pre-show activities beginning an hour before the movie which begins at dark.  Admission to the movie is free.
Sunrise Fitness at McGregor Park
Don't miss your chance to participate in this unique six-week series that provides free fitness classes right beside the calming Cumberland River at McGregor Park.  Join us this Wednesday for Kickboxing, followed by Yoga on Saturday. The last week of the series will feature Pilates on June 23rd followed by Yogo on June 26th. All classes meet from 6:00am-7:00am.
Billy Dunlop Park Closed
Billy Dunlop Park will be closed to the public until noon from June 21st through June 24th.  The park will be closed all day June 25th, and reopen June 26th.
Jammin' in the Alley June 18th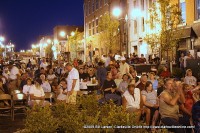 The City of Clarksville together with U.S. Bank will soon be Jammin' in Strawberry Alley again.  Join us on Friday, June 18th for Jammin' in the Alley's third year in downtown Clarksville. 
This month's free concert features Syd Hedrick – a local favorite in Clarksville. The concert begins at 7:00pm, come ready to eat, dance and have fun!
Party in the Park
School is out, summer is here, so grab your friends and come "Party in the Park" June 25th from 7:00pm-10:00pm at Billy Dunlop Park.  This event is part of our new summer series just for teens!  Each month from June through August, one monthly event will be held at different locations for teens to enjoy music, games, food, and more- all in a safe environment. The events are free and open to teens ages 15 to 18.  A picture ID is required.
Want to nominate your band to play at Party in the Park? Are you a new band, or maybe a great yet-to-be discovered local band?  Nominate yourself.  If you're not in a local band, but know of a great one, we need you to encourage them to enter to showcase their talent at Party in the Park 2010.  For details on how to nominate, go to www.parksafterdark.com.
About Parks and Recreation
Sections
Arts and Leisure
Topics
"Jammin in the Alley", Bill Dunlop Park, Clarksville Parks & Recreation Department, Downtown Market, McGregor Park, Movies in the Park, Party in the Park, Senior Splash, Strawberry Alley, Sunrise Fitness, Swim Classes, Syd Hedrick, Water Aerobics