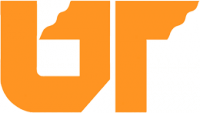 Knoxville, TN — Signifying a new era in athletic field research focused on injury prevention, the University of Tennessee and AstroTurf® broke ground today on the Center for Safer Athletic Fields. The center is a comprehensive research initiative to improve athletic performance and reduce injuries that can occur on both natural and synthetic turf playing surfaces. Ceremonies were held at the research site located at the UT Institute of Agriculture's East Tennessee AgResearch and Education Center in Knoxville, Tenn.

"Possessing all facets of synthetic turf manufacturing from polymer development to field installation, AstroTurf® is an integral research partner," Dr. Jim Brosnan, assistant professor of Plant Sciences at the UT Institute of Agriculture and research co-investigator explained. "We had to be able to work with a company that has the ability to use our research findings to advance the products installed in stadiums across the globe. It is our hope that comparing natural and synthetic turf surfaces to this scale will allow for fields to be safer at all levels of play."

"Ensuring the highest standards for athletic field safety and outstanding performance is our top priority," explained Bryan Peeples, President of AstroTurf®. "Advancing the science behind injury prevention helps athletes of all ages and the sports turf industry overall."

During the groundbreaking ceremonies, special guest Eric Berry, former Tennessee Volunteer and first-round NFL pick for the Kansas City Chiefs, discussed the importance of the initiative. "Reducing playing field injuries keeps professional and student athletes in the game longer," said Berry. "When I heard AstroTurf® was launching this program with my alma mater, I definitely wanted to attend in light of my commitment to player safety."
Game-Changing Initiative
The Center for Safer Athletic Fields aims to make a long-term difference. While determining the safety and performance of AstroTurf® products compared to various natural turfgrass systems, UT turfgrass scientists will also monitor these relationships over time. Additionally, they will evaluate the environmental impacts of each system. The research should lead to the development of new, more accurate methods for testing the safety and performance of all synthetic turf systems. Initial research will start as soon as fall 2010, and the center will be fully operational by 2011.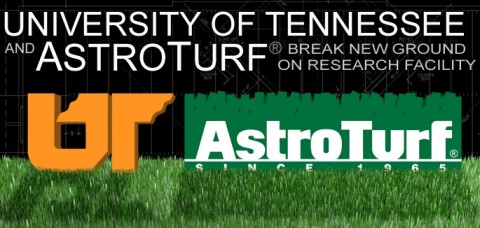 Natural surfaces will be planted with bermudagrass, Kentucky bluegrass and others. Both mechanical and human studies will be performed to create "real play" conditions. The research will be scientifically based for statistical analysis. In addition, the geographic location of the site will enable scientists to conduct research on a variety of surfaces from both cool- and warm-season climates. The unique outdoor research facility will comprise 60 small-scale athletic research fields constructed from a variety of playing surfaces. UT turfgrass scientists will compare the safety and performance of synthetic playing surfaces to natural grass surfaces. Field qualities will range from those employed for professional-level sports to surfaces used by schools, public parks and recreation fields.
"This has been a lifelong dream for both me and my colleague Dr. Jim Brosnan," Dr. John Sorochan, associate professor in Plant Sciences at the UT Institute of Agriculture and research co-investigator said. "Both of us as graduate students focused our research on improving athletic fields for all levels of play. It is especially rewarding to have the support of high profile athletes like Eric Berry who share our vision for safer playing surfaces."
The UT Center for Safer Athletic Fields will also further education for University of Tennessee students, enabling UT Plant Sciences faculty to add another level to the curriculum to train and educate future sports turf practitioners.
About AstroTurf®
For many athletes and sport enthusiasts, the iconic AstroTurf® brand has redefined the way the game is played. The company offers advanced, state-of-the-art, multi-sport and specialized synthetic turf systems with proprietary engineered technologies, leveraging the industry's only vertically integrated manufacturing system. A growing number of high schools, colleges, professional sports teams and municipalities continue to select AstroTurf®-branded products for their premium quality, technical superiority and safety. Recent innovations from AstroTurf include GameDay Grass(TM) 3D with RootZone®, a polyethylene/nylon hybrid system which most closely replicates natural grass; TurfAide(TM), a non-chemical antimicrobial shield protecting against MRSA and other infectious bacteria; and astroflect(TM) Technology which significantly reduces turf surface temperatures. To learn more, visit www.astroturfusa.com.
About The University of Tennessee Institute of Agriculture
The University of Tennessee Institute of Agriculture provides instruction, research and public service through the UT College of Agricultural Sciences and Natural Resources; the UT College of Veterinary Medicine; UT AgResearch, including its system of 10 research and education centers; and UT Extension with offices in all 95 Tennessee counties. The Tennessee Turfgrass team members have developed turfgrass management programs for sports field managers and have served as consultants to the National Football League, Major League Baseball, the PGA of America and professional soccer teams. They advise and consult internationally with sports field managers for cricket, soccer, football, golf, baseball and Olympic venues. The team recently provided consultation to the Tennessee Titans on turf recovery at LP Field in Nashville after the devastating floods in Middle Tennessee. For more information on UT's turfgrass program, visit www.turf.tennessee.edu or www.tennesseeturfgrassweeds.org.
Sections
News
Topics
Astroturf, Athletes, Bryan Peeples, Center for Safer Athletic Fields, Dr. Jim Brosnan, Dr. John Sorochan, Eric Berry, Kansas City Chiefs, Natural Turf, Plant Sciences, Synthetic Turf, Turf, University of Tennessee, UT Institute of Agriculture